We've been hearing about flexible smartphones and displays, but before we can even imagine them in the consumer space, we need batteries to be flexible and stretchable. Well, it looks like that wait might be getting closer to an end, with researchers announcing the development of such a technology.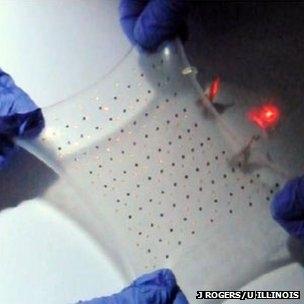 Using a process called "ordered unraveling", John A. Rogers from the University of Illinois and Yonggang Huang from Northwestern University say that their battery can be stretched by up to 300% of its original size, all without losing any functionality. Energy storage islands and "serpentine" wire connections are placed in a sheet of polymer. Polymer is flexible and stretchy by default, with the overlapping wiring can be installed without being damaged.
What can we expect in terms of battery life? According to the engineers, their solution performs close to a standard lithium-ion battery of the same physical size. So we're looking at around 8-9 hours, as well as the ability to charge it wirelessly, but the current prototype they're using loses some capacity after just 20 recharges.