Google Hangouts gets updated, now features adjustments for bandwidth use
Google updates Hangouts with audio-only mode, bandwidth slider.
Published Thu, Feb 7 2013 3:32 PM CST
|
Updated Tue, Nov 3 2020 12:24 PM CST
Google Hangouts is a pretty cool product. A group of users can come together and host group video chats or performances for free. Today, the Google has updated the Hangouts product with a couple of new features. The first is a bandwidth slider. This new adjustment allows you to change how much bandwidth Google Hangouts has available to use.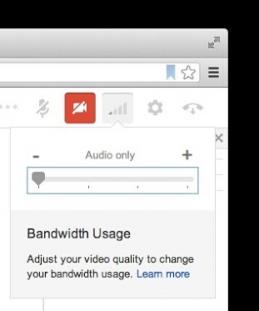 This can be very useful if you're in a low-bandwidth area, such as on a metered 3G connection or at the local coffee shop. Another feature is the option to send and receive only audio. This will also reduce bandwidth requirements while still allowing a user to stay engaged in the conversation.
Today we're excited to launch two new features that improve the Hangouts experience in areas with low and/or unreliable connectivity:

1) Audio-only mode. Choose this mode to send and receive audio only, and thus, significantly reduce your bandwidth requirements. Other participants will only see your profile picture, but they'll hear you loud and clear.

2) Bandwidth slider. At the top right of every hangout is a new slider that lets you adjust your bandwidth preferences in real-time - from high, all the way to audio-only. This makes it easier to keep hangouts going, even in areas with poor connectivity.

Both of these features are coming your way today but they're rolling out separately so you may see one before you see the other. Very soon both features will be available to everyone, so give 'em a try and let us know what you think! Thanks for your patience.
Related Tags