NASA scientists are reporting that they've discovered the first clear evidence of energy transfer from our Sun's magnetic field to the solar atmosphere, or corona, a scientific theory that now has substantial backing.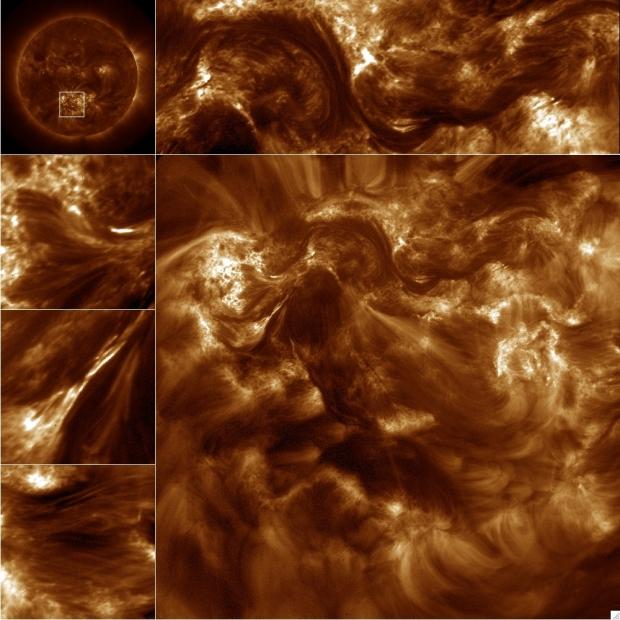 The new findings come courtesy of NASA's suborbital telescope, the High Resolution Coronal Imager, which has captured the highest ever resolution images of the solar corona to date, sporting five times the amount of detail than previous tools used to study our closest star. The telecope launched from the White Sands Missile Range in New Mexico back in July of last year, and has already put smiles on scientists' faces.
The telescope's 10-minute flight had it take 165 images of a large, active region of the Sun's corona. These images showed the evolution of the magnetic field, as well as the releases of energy at temperatures of between a mind-boggling two million and four million degrees. Hi-C principal investigator, Jonathan Cirtain, a heliophysicist at NASA's Marshall Space Flight Center, says:
Scientists have tried for decades to understand how the sun's dynamic atmosphere is heated to millions of degrees. Because of the level of solar activity, we were able to clearly focus on an active sunspot, and obtain some remarkable images. Seeing this for the first time is a major advance in understanding how our sun continuously generates the vast amount of energy needed to heat its atmosphere.
I personally watch suspicious0bservers' videos each and everyday before going to bed (his videos are released at around 10-11pm my local time) and he's one of the most intelligent, thorough YouTube posters I've ever seen. His videos are the only ones I subscribe to, and make the time out of my day to watch every day. It covers all of this type of stuff that NASA are only going into now, and much, much more.
Eyes open, no fear.