Google updates pricing for cloud storage, drops it 20%
Google updates cloud storage pricing and features ahead of Amazon's AWS event in Vegas.
Published Mon, Nov 26 2012 2:20 PM CST
|
Updated Tue, Nov 3 2020 12:26 PM CST
Google's cloud computing services have seen a price drop ahead of Amazon's first big event that takes place this week in Las Vegas. The new prices are roughly 20 percent lower and Google has gone ahead and offered a new service to compliment the price drop. The new feature is like Amazon's Glacier service in that it provides large amounts of storage for cheaper prices. These cheaper prices come at the cost of slower access.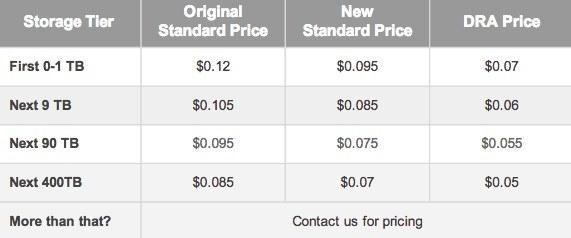 Google's new Durable Reduced Availability Storage is an ideal option for data archiving and backup. If you have data that you're required to keep and don't need to access it very often, if at all, this new cloud storage option by Google could be just the thing for you. The archiving pricing, as seen in the chart above, is $.015 to $0.02 cheaper than the new pricing for the standard cloud storage offering by Google.
Google has also introduced a new feature called Object Versioning, which does exactly what it sounds like it does. It allows users of Google's cloud storage to keep a list of updates so that files can be reverted to earlier states or be resurrected after an accidental deletion. This is an experimental feature, which means that updates to it make not be backwards-compatible and that the feature may be removed in its entirety.
Related Tags