The founder of McAfee, John McAfee, has been on the run from authorities for a while now, and has added an interesting new twist to the already interesting story.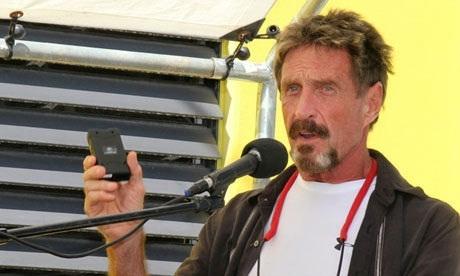 McAfee is currently wanted by the police in Belize, for questioning in regards to the murder of his neighbor, Gregory Faull. McAfee of course denies that he murdered Faull, and is now stating that he is the victim of a murder plot. Forgetting that he's not starring in his own movie, McAfee is posted a transcript of a conversation that allegedly took place between an ex-employee, and another employee, which McAfee says he taped using "secret recording devices" on the grounds of his $1.5 million property.
The post shows that the two men were talking about planting a bomb at McAfee's house, and afterwards calling officials in the police force, which they suggest are involved in the conspiracy. But, if this post isn't a troll, it would explain why McAfee is afraid that the police will kill him if he comes in for questioning.
The two employees worked for McAfee, after the founder had left the company. The plot centers on the first employee being sacked, but McAfee is set to add another twist to the story by adding a second recording, which he says will expose the man's links with the government.
McAfee has also said that he received a handwritten death threat, which demanded that he pay $150,000. McAfee, not trusting the police, went down the route of a private investigator instead, forcing his employees and guards to copy the note in their own handwriting - but none matched. McAfee's four dogs were also poisoned, which the police believe may be linked with the murder of his neighbor, Faull.