FMS 2012 - LSI and SandForce featured everywhere, a summary
LSI and SandForce really owned the show at FMS 2012.
Published Sun, Aug 26 2012 1:18 AM CDT
|
Updated Tue, Nov 3 2020 12:27 PM CST
Flash Memory Summit 2012 - It really didn't matter where you were standing at Flash Memory Summit, within ten feet was a product with either LSI or LSI SandForce silicon.
For years, LSI has played a significant role in several markets, video processing, encoding and so forth, but their largest presence has been enterprise storage. SandForce, before joining LSI was known for their consumer SF-1200 and SF-2200 controllers, but these products were created from their enterprise counterparts, SF-1500 and SF-2500. The enterprise SandForce parts were successful on their own, but by adding three letters to the SandForce name, LSI SandForce flash processor units are now displacing the competition from the enterprise sector.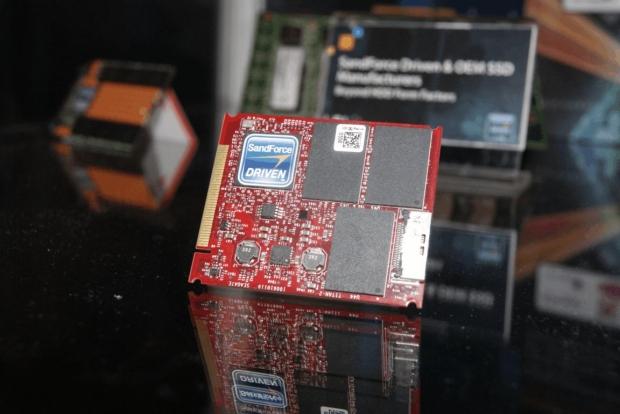 [img]2[/img]
These are not DDR3 DIMMs, they are Viking SATADIMMs using LSI SandForce SF-2500 Series FPUs. These products draw power from the DRAM bus, but are enterprise SSDs in an innovative form factor that allows for unprecedented scalability.
[img]3[/img]
Biwin, a company we know in the US as a consumer SSD manufacture is also working on enterprise class and prosumer models like this PCIe solution that uses eight mSATA SSDs with a PCIe 2.0 8-lane connector.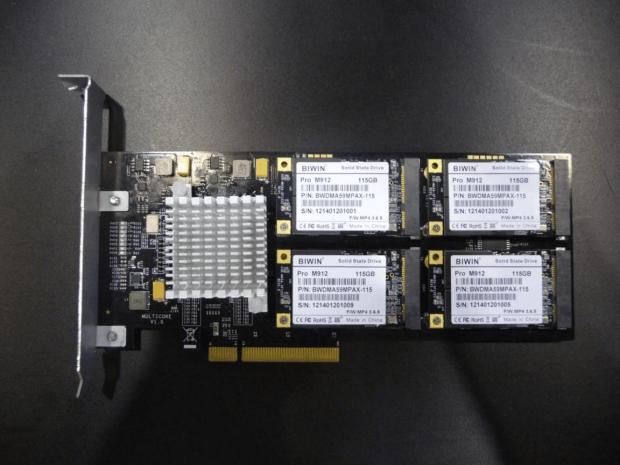 We've yet to uncover all of the secrets of this engineering sample FPU, but we are working on it.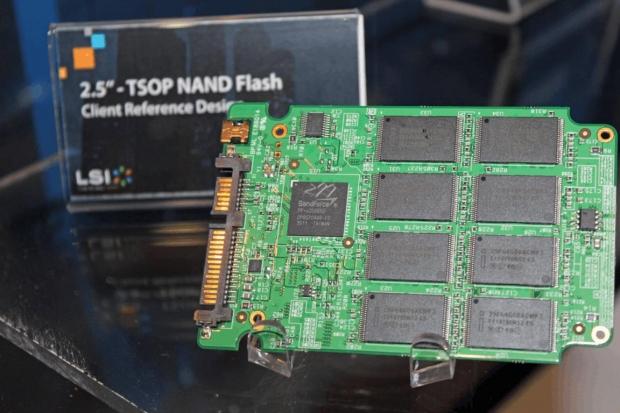 Other prosumer solutions were at FMS 2012 like this model from Mushkin.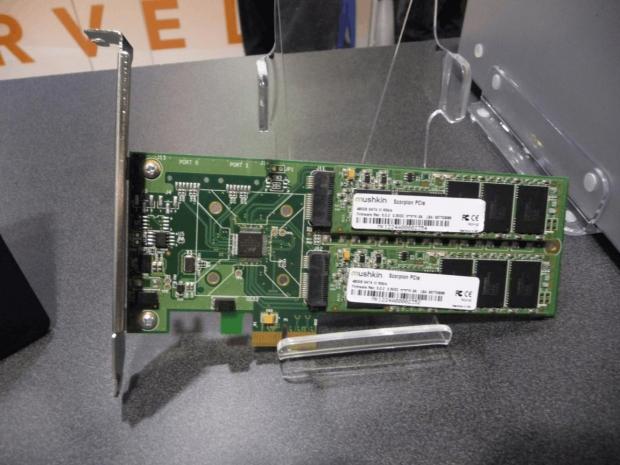 LSI SandForce had a number of advanced reference designs on display at FMS 2012.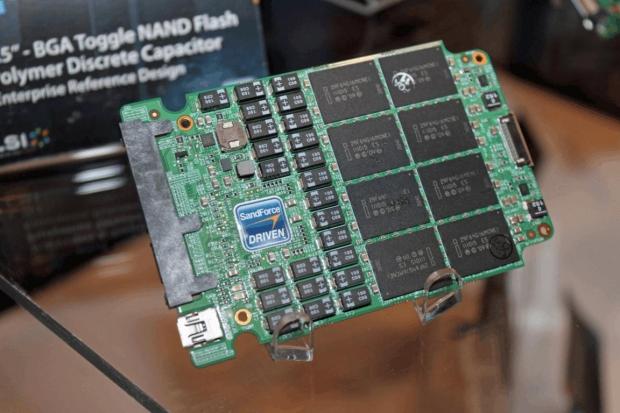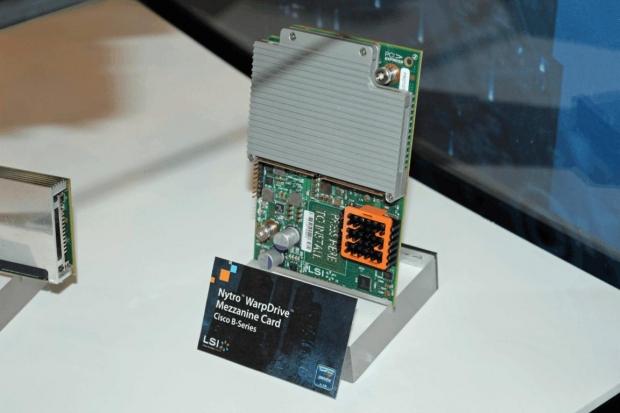 Nytro WarpDrive products are the next evolution to the LSI SandForce strategy. These products are starting to expand now and TweakTown will have full coverage in the coming weeks.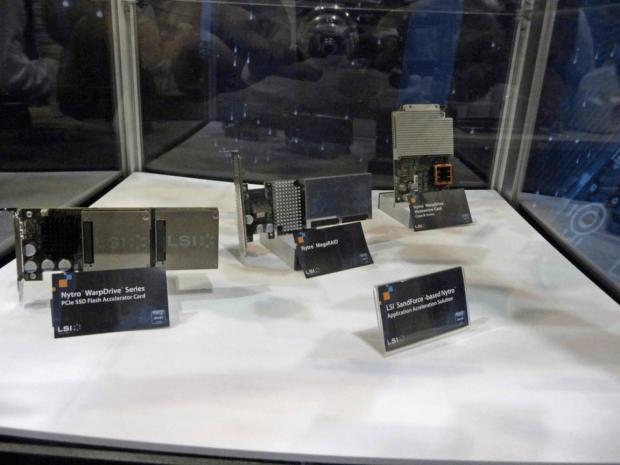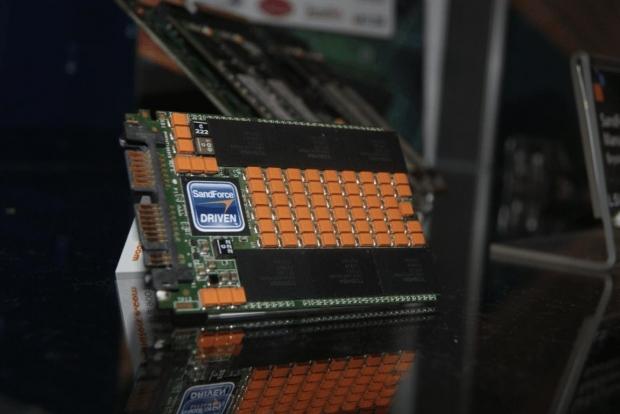 This is my favorite picture from the group, but we don't know what type of connector is attached to this SSD.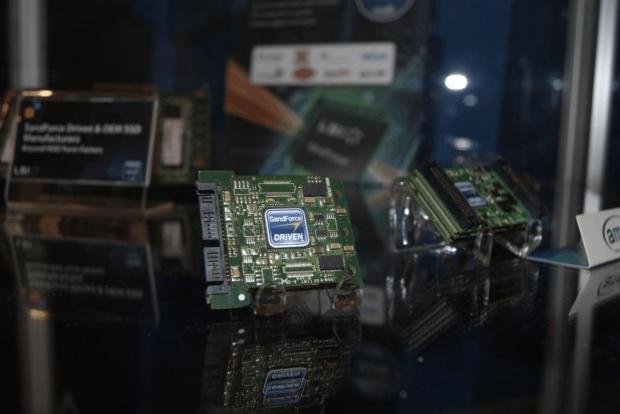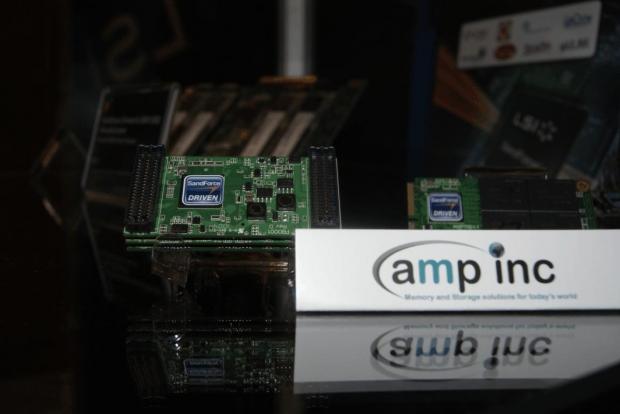 More reference designs from LSI SandForce.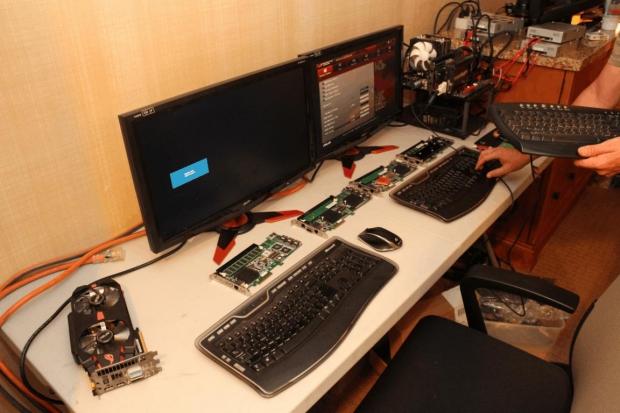 This last image is during our early setup for a record breaking storage run in PCMark Vantage, a test we routinely run in consumer SSD and RAID controller reviews. The RAID cards have LSI dual-core RAID-on-Chip (ROC) processors.
Related Tags