Rumors are circling that AMD could be an acquisition target, and these rumors have inflated AMD's share prices by close to 8%, where they hit $4.34 per share. MarketWatch hasn't gone into much length about the rumors themselves, where they've only quoted Evercore Partners analyst Patrick Wang.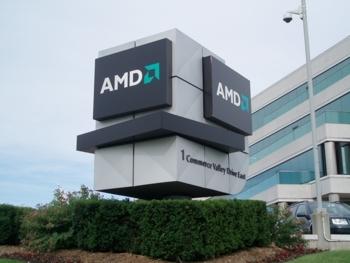 Wang has said that Qualcomm and Samsung were both potential buyers with a possible bid on the chipmaker. Wang doesn't believe the rumors have much solidity, where he says "I think it's unlikely they get a take-out offer". But, we've seen what acquisition talks can do to a company's share prices, where rumors of OCZ being scooped up by Seagate saw OCZ's shares blow up by 22%.
EE Times' reporter Syvie Barak wrote a story listing the potential candidates of an AMD acquisition, where she pointed out Qualcomm as the number one suspect. She notes that Qualcomm have already acquired assets from AMD's done-and-dusted handheld business a few years ago. Barak also notes that by acquiring AMD, it would give Qualcomm "increased leverage with manufacturing partners like TSMC and Globalfoundries".
Barak notes that Samsung could use AMD's patents in their ongoing war with Apple. Samsung currently design their own ARM-based System-on-Chips (SoC), and have hired ex-AMD employees, and at the rate they're going at the moment, they could easily shell out the cash for AMD and not be cash-strapped afterwards. Right now, rumors are just that, rumors. If anyone were to scoop up AMD, I'd like to see Samsung do it, just to see what they could do with the company in a few years time.
Wouldn't that be weird: Samsung Radeon HD 8970. It has a nice ring to it. Maybe they'd change it to Galaxy HD 8970? Thoughts?