NVELO show off their SSD caching software, with some impressive results
NVELO Dataplex caching software is very, very impressive.

Published Thu, Aug 2 2012 5:33 AM CDT
|
Updated Tue, Nov 3 2020 12:27 PM CST
NVELO have opened their arms to The SSD Guy, who provided the site with some benchmark data comparing the company's Dataplex software's performance versus Intel's iSRT caching software that is getting baked into more and more Ultrabooks as they arrive.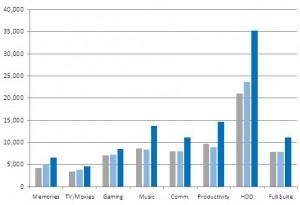 For those, like me, who aren't fully aware of this technology, they are both caching software that "automatically maintains "Hot" data within a low-capacity SSD while leaving "Cold" data on the system HDD. The end result is that the PC performs as if it boasts a large SSD when, in truth, it uses a standard HDD and a modest-sized SSD, giving SSD-like performance at HDD-like prices, with full HDD capacity."
The above chart was provided to The SSD Guy by NVELO, shows a few standard benchmarks run on three different systems. The first is an off-the-shelf HP Envy 4-103 Ultrabook using the iSRT-based write-back cache that it ships with (represented by the grey columns), the same system but adapted to use a write-around implementation of NVELO's Dataplex (shown in pale blue), and finally, the same system sporting Dataplex running in write-back mode (shown in dark blue).
As The SSD Guy reports, the Dataplex write-around method keeps up with the write-back implementation of iSRT, even outperforming Intel's solution in five out of eight benchmarks. But, Dataplex in write-back mode smashes iSRT in write-back mode from anywhere between 21-percent to a whopping 141-percent, averaging 57-percent over all the benchmarks.
Related Tags