Thunderbolt may not be everywhere yet, but we are still waiting on mechanically-driven hard disk drives to die their mainstream death, for speed reason anyway, but it looks like Thunderbolt has a future filled with speed.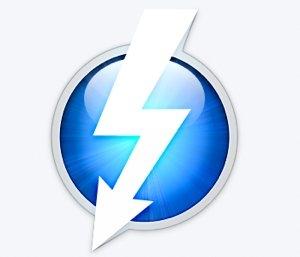 Intel isn't slowing down their rampage of Thunderbolt, with the company already planning more than one new controller, including a Falcon Ridge part that is said to double the current throughput from 10Gbps per channel, to 20Gbps per channel.
Current-generation controllers, codenamed "Cactus Ridge", arrived earlier this year starting with Apple's latest Mac products. Cactus Ridge-based parts combined DisplayPort and either two or four PCI Express lanes (depending on the chip used) over a single cable, with 10Gbps of bidirectional bandwidth per channel.
Falcon Ridge is a fourth-generation controller and is set to be unleashed in 2014, offering 20Gbps per channel. At the moment, it's not clear whether Intel will be able to hit those speeds while using the current copper cables, or if they'll need to bake in some more expensive optical variety.