Microsoft are on quite the roll this week, first up we had their Surface tablets, and now the announcement of Windows Phone 8. The next-generation mobile operating system will sport a redesigned home screen, now allowing every tile to be customized in one of three available sizes, and completely ditches the right-hand "rail" that help the link to the full app list.
Skype and VoiP functionality are built directly into Windows Phone 8. Microsoft are adding a background agent that handles incoming and outgoing calls, as well as messaging and integration with several of the Windows Phone 8 features. Skype takes full advantage of this, as well as any other VoiP-based application without favoring one over the other. Microsoft's Greg Sullivan says the integration is so good that he jokes that Apple should create its own FaceTime app on Windows Phone 8, and it would work better than it does on the iPhone.
Windows Phone 8 will include Internet Explorer 10, which will run on the same desktop code used in Windows 8. It will also offer four times faster JavaScript performance and full HTML5 support. Security-wise, it will offer increased security, such as a phishing filter and the SmartScreen URL reputation system.
Thanks to Nokia being a very close partner with Microsoft, Nokia mapping information will be a big part of Windows Phone 8 going forward. This will include offline maps, turn-by-turn directions, and all third-party apps will be able to access mapping data.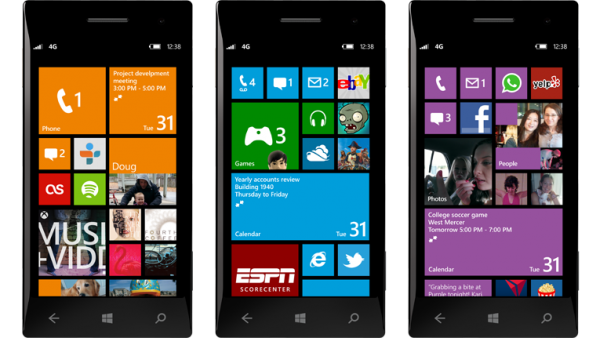 Windows Phone 8 will share common code between its desktop brother OS, Windows 8. Things such as kernel code, file system, networking services, media foundation, device drivers, and parts of the security model from Windows 8 will gel between the OS'. Microsoft calls this the 'Windows Core', which will enable developers to port apps between Windows 8 and Windows Phone 8 without re-writing a lot of the code.
There is a downside, though: current Windows Phone 7.5 and earlier devices won't be able to upgrade to Windows Phone 8, but Microsoft does plan to roll out a Windows Phone 7.8 update that will bring some of Windows Phone 8's goodies to the older OS.
Microsoft are also expanding the hardware specifications for Windows Phone 8 which will allow manufacturers to deliver more powerful solutions to challenge the iPhone and high-end Android-based devices. WP8 will support dual-core processors at first, and quad-core processors sometime after that. Thanks to the 'Windows Core' Windows Phone 8 is capable of supporting up to 64-core processors. Yes, 64-core processors, wow.
Windows Phone 8 also supports more powerful GPUs and three screen resolutions, the current WVGA (800 x 480), WXGA (1280 x 768) and true 720p (1280 x 720). This will arrive in similar aspect ratios (two at 15:9 and one at 16:9) so that there's no problems with applications looking different on all devices.
Another notable addition to WP8 is NFC support and Microsoft's Mobile Wallet Hub. Mobile Wallet Hub will support NFC-based payments, as well as the ability to store credit card information, member cards, and frequent flyer cards. There's also a Tap + Send feature that allows seamless content sharing between NFC-enabled WP8-based devices. Microsoft are also baking in full SD card support to Windows Phone 8.