Vodafone UK have thought outside the square and released the Booster Brolly. What exactly is the Booster Brolly, well it's a multi-purpose umbrella. The prototype umbrella was created in partnership with University College London (UCL) to make sure that festival goers stay connected with their friends during the events over the coming months.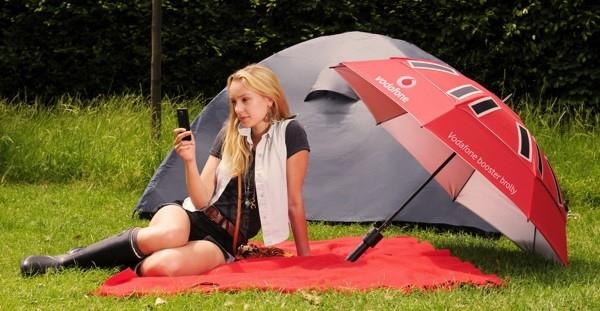 Booster Brolly has been designed to work as an eco-friendly mobile phone charger that gets charged through a bunch of flexible solar panels. The electrical current generated from these solar panels also powers a micro antenna which will boost a handsets 3G signal wirelessly. Booster Brolly is going to get trialled at the Isle of Wight Festival next weekend, the umbrella also sports an LED torch for night time navigation, as well as a 'hands free' smart phone cradle.
Booster Brolly works with a bunch of mobile devices, charging a smartphone battery in less than three hours. Booster Brolly features a durable carbon fibre skeleton, housing the electrical circuitry and a double layer wind and waterproof canopy that protects users from the worst of the British weather that is thrown on top of them, as well as doubling as a sunshade when the sun is out and bright.