Samsung's Series 5 Chromebook and Series 3 Chromebox are here
Samsung releases two Chrome OS-based machines, Series 5 Chromebook and Series 3 Chromebox.

Published Tue, May 29 2012 10:16 PM CDT
|
Updated Tue, Nov 3 2020 12:28 PM CST
Google and Samsung sitting in a tree, C-H-R-O-M-I-N-G. Yeah, you get the point. Samsung have released two new Chrome OS-based products today, the Samsung Series 5 Chromebook and the Series 3 Chromebox. What makes these products stand out from the crowd? The cloud-based OS UI has been updated, and now sports multitouch trackpad support.
Coinciding with the new OS update, are Samsung's two products. The updates OS now sports an app-focused user interface that lets you select which programs you use the most, for easier access. Google Drive is now the data storage system, and deeper integration should come through in the coming weeks.
A revamped media player peeks its head up, too, as well as a brand new photo editor and uploader, as well as remote desktop support for both Windows and Mac. What hardware is inside the new system? According to The Verge's review on the units, the Chromebook sports a 1.3GHz dual-core Intel Celeron 867 processor, 4GB of RAM, a 12.1-inch screen, 1200x800 resolution, multitouch trackpad, Wi-Fi and 3G, two USB 2.0 ports, a 4-in-1 card reader and more than eight hours of battery life.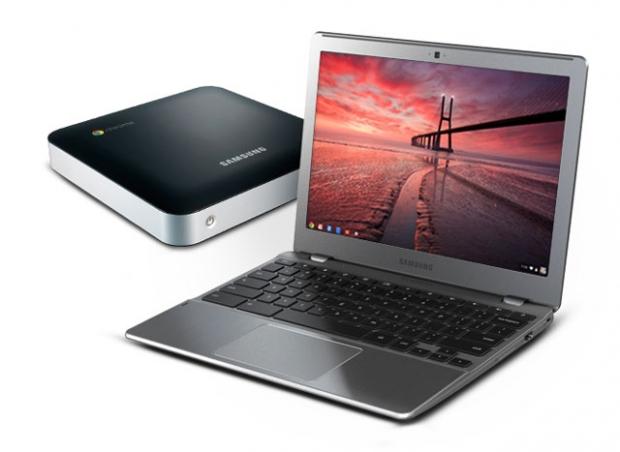 The Chromebox features a 1.9GHz Celeron B840 processor, 4GB of RAM, dual-band Wi-Fi-, six USB 2.0 ports, Gigabit Ethernet, and two DisplayPort++ for an HDMI, DVI or VGA connection.
Related Tags