Facebook petition pushing for new Mac Pro
Want to see a new Mac Pro released? There's a Facebook petition for that.

Published Thu, May 24 2012 9:31 PM CDT
|
Updated Tue, Nov 3 2020 12:28 PM CST
The power of Facebook has allowed a disgruntled Apple fan to start a petition for the company to pay more focus to its Mac Pro line of systems. The maker of the page, Lou Borella, wants Apple to refresh its professional-level desktops, or at least be vocal with Mac Pro fans to let them know something is at least coming soon.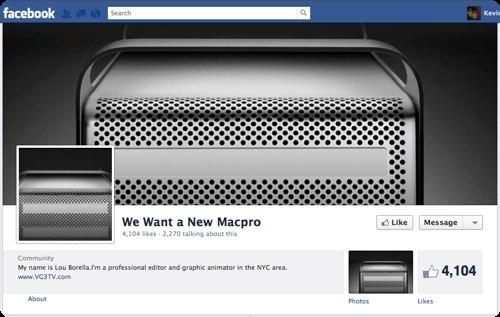 The maker of the page is said to be a professional editor and graphic animator in the New York City area, and initially posted a lengthy plea to Apple to update everyone on their Mac Pro plans, claiming that he didn't want to go to "the Dark side" by buying a Windows-based machine, and that hacked models combining more modern equipment with Apple's OS X operating system were insufficient to meet professional needs.
The page has more than 4,200 likes, and over 2,270 people talking about it. You know what, I love this idea. I have to hand it to Lou, this is one of the best ways to get attention from a usually secretive company. Apple has been concentrating more on slightly updating their iOS-based devices, than they have on their Mac Pro line. But, we can see the changes within OS X, and the upcoming Mountain Lion, where it's going more toward iOS. Maybe this is why Apple are being hush-hush when it comes to refreshing their Mac Pro.
Related Tags