Aero Glass to disappear in Windows 8, Microsoft simplifies UI
Microsoft to ditch Aero Glass in Windows 8, aero disappears into thin air.

Published Sun, May 20 2012 10:29 PM CDT
|
Updated Tue, Nov 3 2020 12:28 PM CST
When Aero Glass first arrived with Windows Vista, people were finally impressed with the sleek look of a Microsoft operating system. Windows 7 polished it up a bit, and pushed it even more, but it seems like Microsoft are ready to throw Aero out when Windows 8 arrives.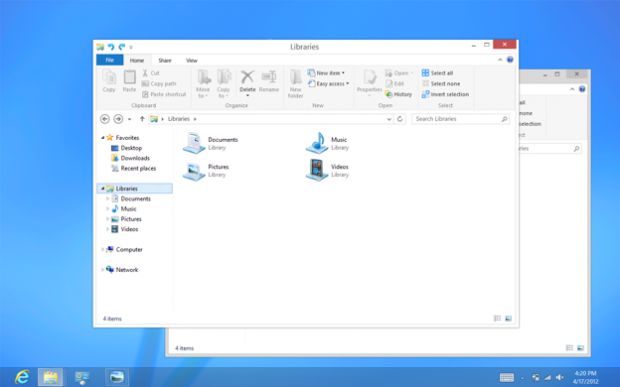 Microsoft has "moved beyond" the design, and are looking forward to embrace an approach that feels "clean and crisp". Microsoft's development blog has some great thoughts and information on the move, where they say that by "flattening surfaces, removing reflections and scaling back distracting gradients", Windows 8 will provide a simplified experience over its flashier predecessors:
We applied the principles of "clean and crisp" when updating window and taskbar chrome. Gone are the glass and reflections. We squared off the edges of windows and the taskbar. We removed all the glows and gradients found on buttons within the chrome. We made the appearance of windows crisper by removing unnecessary shadows and transparency. The default window chrome is white, creating an airy and premium look. The taskbar continues to blend into the desktop wallpaper, but appears less complicated overall.
To complete the story, we updated the appearance of most common controls, such as buttons, check boxes, sliders, and the Ribbon. We squared off the rounded edges, cleaned away gradients and flattened the control backgrounds to align with our chrome changes. We also tweaked the colors to make them feel more modern and neutral.
Related Tags