Android reclaims 61% of all US smartphone purchases
Android sales have increased back to 61% of total smartphone sales.
Published Mon, May 7 2012 1:30 PM CDT
|
Updated Tue, Nov 3 2020 12:28 PM CST
As the war between smartphones and smartphone operating systems wages on, Android marched forward and taken back some ground. Over quarter 4 of last year, Android sales dropped from 61% in Q3 to 49% in Q4 as Apple iPhone sales jumped from 25% to 41% over demand for the 4S. Android has returned to being 61% of all smartphone sales during Q1 2012.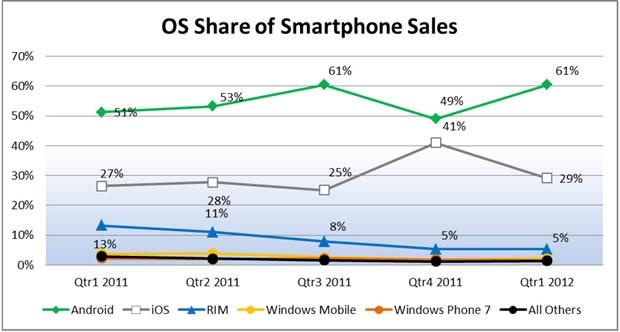 Of course, as one group goes up, others must go down. In this case, Apple has declined from 41% down to only 29%. iOS and Android combined make up 90% of US smartphone sales. Overall, however, smartphones have failed to increase as a portion of overall phone sales. They remain pegged at 66% of all handset sales.
Two out of three people aged 25-34 own a smartphone. Distribution between men and women are generally in a dead heat at around 50%. Android is top in the United States with around 49% market share for last quarter. Apple only has 32% during the same quarter, yet it remains the top smartphone maker.
Related Tags