20% of Macs house Windows malware
20% of Macs are infected with Windows malware.

Published Wed, Apr 25 2012 3:32 AM CDT
|
Updated Tue, Nov 3 2020 12:28 PM CST
Most people think Macs are safe, and it's definitely a decision that sways some people when purchasing their latest kit. But, according to Sophos, one in five Macs actually harbors some kind of Windows-orientated malware.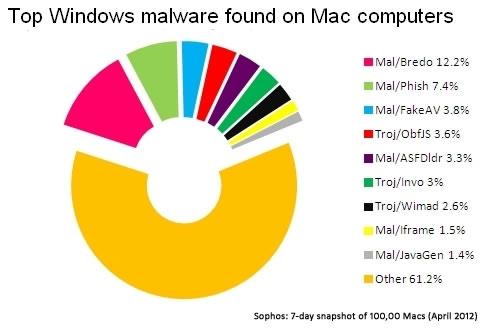 The company looked at results over seven days from 100,000 Apple machines using its free anti-virus program, with 20-percent having one or more instances of Windows-based malware. Sophos have warned of this before, where last year they tested 50 USB drives lost in public. To their surprise, as well as mine, two thirds of these were infected. That's 33-percent! Seven of these owners of lost USB flash drives owned a Mac.
In their latest study, Sophos found that just 2.7-percent of the infected Macs actually contained harmful malware, with 75-percent of it being Flashback variants. Of the 20-percent harboring Windows malware, 12.2-percent carried Bredo, a three-year-old Trojan. Sophos does note that some machines contain malware samples that go back to 2007. Sophos have said the following:
Although most of the malware we're currently seeing on Macs is designed to infect Windows, you should still be a responsible member of society and ensure that you're keeping your Mac squeaky clean. Currently, Mac users are doing a pretty poor job on that front.
They've also given the following tips:
Run an anti-virus program, and make sure it's kept up-to-date.

Keep your security patches up-to-dated - not just for your operating system, but also for programs which you run on your Mac

Exercise caution about the programs you install, the links you click on and the attachments you open

Keep your wits about you and stay informed! If you keep clued-up about security threats you are less likely to be tricked by a cybercriminal into making a poor decision.
Related Tags