GIGABYTE GEFORCE GTX 680 spotted
GIGABYTE's GEFORCE GTX 680 spotted, hype... building...

Published Mon, Mar 19 2012 10:28 PM CDT
|
Updated Tue, Nov 3 2020 12:29 PM CST
A post over on Overclock3D.net has a surprise for ya'll. It's a picture of GIGABYTE's GEFORCE GTX 680 GPU, and while I'm excited to see what NVIDIA's latest Kepler 28nm-based GPU can do, the GIGABYTE card seems very reference. In a world where AMD allowed non-reference designs on their top-end GPUs, it's a bit saddening to see this.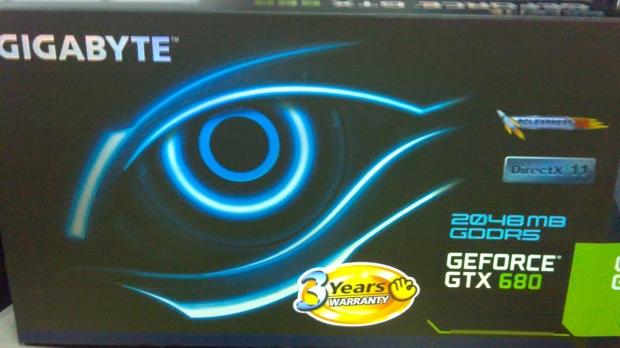 The first picture is of the box, where it features the GIGABYTE robotic eye which looks cool, I always associate it with Transformers for some reason. We see that it sports 2048MB of GDDR5 RAM, and includes a 3-year warranty on the card, again, great work by GIGABYTE. We also see that it's based on PCI-Express 3.0 and includes support for DirectX 11, which is something that should be standard, and known by now.
The next picture is of the card itself, where we can see the usual reference build, sporting just one fan. The new cards are on the aforementioned 28nm process, so we should expect these GPUs to run cooler than the 500-series, and significantly cooler than the 400-series from NVIDIA.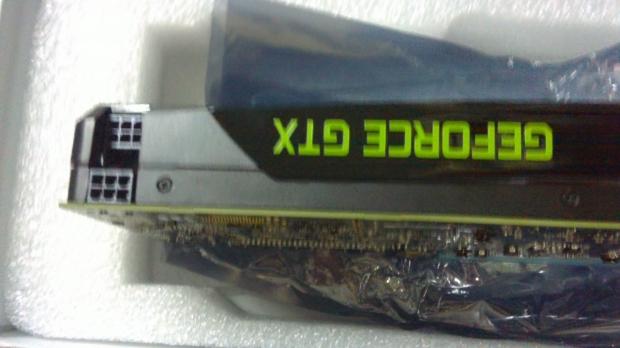 The last picture is of the power connectors on the GTX 680, where we see the dual 6-pin PCI-Express connectors. It's great to see NVIDIA's flagship card not require an 8-pin plus 6-pin design, which means we should see these things being slotted into not-so-high-end systems, which is another bonus for NVIDIA and their sales, but for consumers, too.
Related Tags