CeBIT 2012: OCZ have just unveiled the successor to the Vertex 3 SSD, dubbed Vertex 4. Vertex 4 is a fourth-generation SSD which sports the Everest 2 controller, as well as synchronous MLC flash memory that should sport speeds of up to 550MB/sec read, and 500MB/sec write, with 90,000 IOPS (4k random write).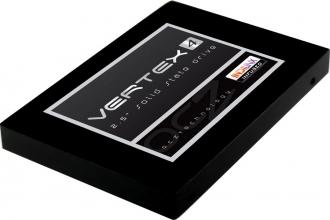 OCZ, if you remember, exited the memory market in early-2011, where they cited weakness in the global DRAM industry, but noticed rapid growth in the solid-state drive market. OCZ then scooped up South Korea-based Indilinx, who they worked on the original Vertex SSD.
OCZ's Vertex 4 drive is the second drive to sport technology from the acquisition and the first to use the Everest 2 platform. OCZ did launch the Octane SSD in October of last year, which featured the original Everest controller, and was the first SSD to ramp up to 1TB in a 2.5-inch form factor. No release date is set on the Vertex 4, but we should see it hitting shelves in the coming months, and we should also see it in capacities up to 2TB.