Survey shows that mobile games aren't killing consoles
Survey shows that mobile games aren't killing consoles, makes some Birds Angry.

Published Fri, Nov 25 2011 7:48 PM CST
|
Updated Tue, Nov 3 2020 12:30 PM CST
For a while now, casual games on mobiles have been thought of the death knell of console games. But, according to a survey run by 3DS Buzz, mobile games aren't hurting console games at all. 3DS Buzz conducted a survey to find out who owns the latest handheld gaming consoles would disagree with the idea that it is dying out.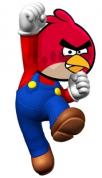 3DS Buzz wanted to ask those who had been DS gamers, but they had turned their backs on the latest gaming system. They found out nearly 300 people who had bought a DS but not a 3DS so 3DS Buzz asked them why they didn't buy the new 3D portable system. 3DS Buzz provided 16 options on the survey, which allowed participants to pick as many reasons why they hadn't made the purchase they wanted.
2-percent of voters selected "I'm happy with my mobile phone/tablet for handheld gaming." But, consider that 3DS gamers are a totally different kettle of fish, as personally, I know of only two people in my entire family and friends circle with one. Considering over half of them have a console (PS3 or 360) and every single one of them has a PC.
Personally, I think mobile gaming with the hundreds of millions of Android and iOS-based users, have access to a gaming app section in their respective stores. Angry Birds has sold past the hundred million mark, and I can't remember the last time a 3D/3DS game sold that many...
Related Tags