AMD FM1 and FM2 packages are incompatible
AMD FM1 and FM2 sockets are incompatible, boo.

Published Sun, Nov 13 2011 8:30 PM CST
|
Updated Tue, Nov 3 2020 12:30 PM CST
Below, we have a picture of the AMD accelerated processing units in both FM1 and future FM2 packages, which the latter will be based on the next-generation Trinity APU. In the picture below, "Llano" FM1 APU is on the left, "Trinity" FM2 is on the right.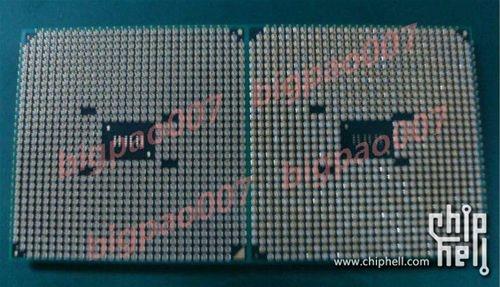 Both packages are pretty much identical, with the difference between them a set of blanked pins in the sub-central portion of the pin array. The FM2 package sports 904 pins whilst the FM1 package has 1 more at 905 pins. One pin is blanked, whilst a pair of blanked pins are arranged further away from the central cutout.
What does this mean? It means that FM1 and FM2 are completely incompatible, and won't allow you to run today's A-Series APUs in the FM1 package on future socket AM2 boards, nor will you be able to run future FM2-based CPUs on today's FM1 motherboards.
I'm sure AMD fans are saying FM[L] right now.
Related Tags