In just a week from now, Nathan Drake will feature on people's TVs across the world in Uncharted 3: Drake's Deception. Uncharted 3 has made its way to game reviewers across the world and it seems its yet another home run smash-hit for Naughty Dog. Reviews are mostly between 90 - 100, but these days - reviews can be somewhat, deceiving. If a rehashed COD title can usually score 90+, how does a stand-out game like Uncharted deserve the same score, shouldn't it be more?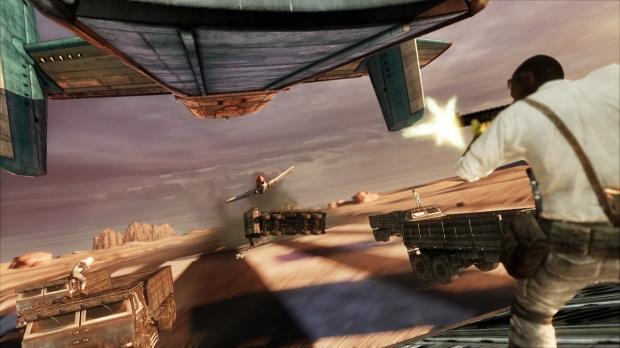 Anyway, the reviews are very, very favorable and it just makes me want to play the game even more. If you haven't played the previous two Uncharted titles, I really suggest you grab them and play them both this week, then purchase Uncharted 3 when you're finished. I'm sure you won't need to play the previous two, but for one, they're amazing games. Two, it'll help with the characters, and story of the third game, which is just one week away!
Some thoughts from reviewers:
Eurogamer:
Uncharted 3 is a game that has an unshakable sense of its own identity. The series has always had clear aims: an unapologetically mainstream Boy's Own romp whose primary interest is in creating unrivalled thrills through daring spectacle rather than daring design. But in this, the third outing, it has settled into the kind of assured swagger that comes from finding repeated successes in a specific creative mine.

Its greatest debts are to Saturday matinee cinema, Indiana Jones puzzles and pacing, Jewel of the Nile romances born in the kiln of perilous adventure; Han Solo quips. But at this point in the trilogy the designers have established a template of their own to follow.
IGN:
When the tale finishes, you can look forward to multiplayer. Uncharted 2 introduced competitive and cooperative modes for the series, and Uncharted 3 improves them to make something special. The standard menu returns (team deathmatch, capture the flag, etc.), but Naughty Dog adds bonuses known as Boosters and Kickbacks to round out the experience. These are upgradable bonuses that you equip to make the multiplayer experience more your own.

Boosters augment your entire session - one reduces respawn time, one lets you climb faster - whereas the in-match medals you earn count toward unlocking your Kickback, which can instantly spawn an RPG or double your cash earned for a short period of time. These spice up the gameplay; you can pepper them into one of your four saved loadouts and have a skill set for any situation. This stuff will keep me coming back. Even when I have a terrible match in Uncharted 3 multiplayer, I see the cash I've earned counting toward my next level and I see my Boosters earning experience and becoming more powerful.

Toss all this into the pot, and matches in Uncharted 3 multiplayer feel fresh every time.