Giant SEGA Xbox Live %50 Off Sale, Now Through Monday
Lotsa SEGA games for download, some classic, some new, some.....well. unexciting.
Published Thu, Apr 21 2011 12:33 AM CDT
|
Updated Tue, Nov 3 2020 12:31 PM CST
What is it lately that all of these video games companies are behaving like those EVERYTHING MUST GO carpet and furniture warehouses that seem to go out of business for years at a time?
SEGA
has marked down a substantial amount of video games, the majority of which are marked down %50 from their original MSP. Like all of the recent downloadable offerings, this one is full of snoozers too. Ecco the Dolphin? Does that game have a cult following or something? I remember playing that game on the GameGear for crying out loud, and I don't particularly remember the game being that entertaining or popular- but hey. It's 200 MSP if you're into that kinda thing?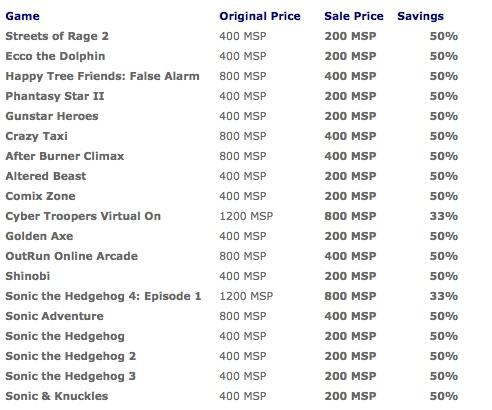 You can still grab all the classic Sonic titles for 200 MSP each, and there are a few others like Shinobi and Streets of Rage 2 that are worth the trip down memory lane, so you might as well check it out anyway.
Related Tags