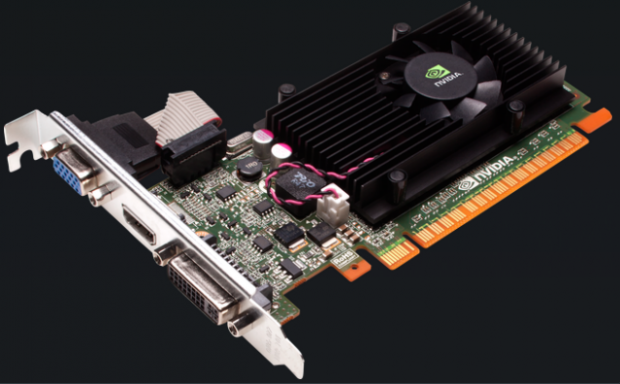 GeForce, the product that sounds like a teen Superhero team, is back with the brand spankin' new GeForce GT 520, the perfect GPU to accelerate media, gaming and, well- pretty much everything now that we've opened up GPU-accelerated web browsing. It supports DirectX 11 (meh), GPU accelerated General Purpose Computing (CUDA), and the aptly named physics engine processor, PhysX. If you're a gamer looking to upgrade your GPU and you plan on playing World of Warcraft: Cataclysm, Farming-Simulator 2011, or the bad-ass StarCraft II: Wings of Liberty, you're going to want to check the GT 520 out as those games will take full and absolute advantage of this GPU's processing power. With 48 CUDA cores, 810 MHz Graphics Clock, 1620 MHz Processor Clock, and a Texture Fill Rate of 6.5 billion/sec, this GPU should some serious cajones to your gaming machine. Let's also not forget that it's 3D photo, 3D video, and 3D Blu-Ray ready.
Check out more at their
product website
, or more after the jump.
It also supports all of this cool stuff:
Microsoft® DirectX® 11 Support
DirectX 11 GPU with Shader Model 5.0 support designed for ultra high performance in the new API's key graphics feature, GPU-accelerated tessellation.
Blu-Ray 3D Support
Enable a theater quality 3D in your home with seamless support for 1080p Blu-Ray 3D discs across any compatible 3D viewing system over HDMI 1.4, including active-shutter glasses and passive polarized displays.
Hardware Video Decode Acceleration¹
The combination of high-definition video decode acceleration and post-processing that delivers unprecedented picture clarity, smooth video, accurate color, and precise image scaling for movies and video.
TrueHD and DTS-HD Audio Bitstreaming Support
Full support for TrueHD and DTS-HD advanced lossless multi-channel HD audio codecs brings the rich sound of the master recording to your living room.
NVIDIA CUDA™ Technology
CUDA technology unlocks the power of the GPU's processor cores to accelerate the most demanding tasks such as video transcoding, physics simulation, ray tracing, and more, delivering incredible performance improvements over traditional CPUs.
NVIDIA PhysX® Technology
Full support for PhysX technology, enabling a totally new class of physical gaming interaction for a more dynamic and realistic experience with GeForce.
HDMI Output
Support for HDMI 1.4 output enables sending both high-definition video and audio signals to an HDTV via a single cable.
Dual-link DVI Support
Able to drive industry's largest and highest resolution flat-panel displays up to 2560x1600 and with support for High-bandwidth Digital Content Protection (HDCP).
PCI Express 2.0 Support
Designed for the new PCI Express 2.0 bus architecture offering the highest data transfer speeds for the most bandwidth-hungry games and 3D applications, while maintaining backwards compatibility with existing PCI Express motherboards for the broadest support.