Japan Earthquake: Watch for Scams, Fraud
Japanese Earthquake wil undoubtedly lead to Fraud and Scams perpetrated upon good samaritans through.
Published Fri, Mar 11 2011 2:24 PM CST
|
Updated Tue, Nov 3 2020 12:32 PM CST
According to Mike Lennon of Security Week, the tragedy of last night's earthquake off the coast of Japan wil lead to further proof the human race is full of terrible, terrible people.
He writes, "Today's tragic events of the 8.9 magnitude earthquake and resulting Tsunami, as sad as it is, is a dream for scammers and fraudsters around the world. Tragic events are always something scammers use to their advantage, helping them prey on and exploit innocent victims...Scams are already spreading across Facebook, which started in a matter of minutes after the news broke of the earthquake in Japan. As I write this, scammers are hard at work, registering new domains and cranking out templates for their fake donation sites. This will be followed with massive volumes of email spam, Tweets through Twitter, and Facebook posts, as scammers gear up to solicit donations from around the world. Users also need to be aware that cybercriminals also use these events to help spread malware, via malicious links via spam, twitter and other fake Web sites.
Lennon made his prediction based on the numerous and prevalent scams that polluted the Internet amid the Haiti Earthquake Aftermath, including pay-per-use "loved one finders", fraudulent charities and fraudulent entities using handcrafted domain names posing as legitimate charities, like the American Red Cross. And don't forget general phishing scams, MalWare links, and the tried-and-true (and tragically, often successful) Nigerian Prince Con.
Net users and especially those who wish to contribute to the inevitable aid efforts in the recent future should be particularly vigilant, making sure to adhere rigidly to already widely known internet safety procedures; if you intend to donate or contribute, make sure to research the charitable entity thoroughly, including their domain names, Twitter accounts, Facebook fan pages, etc.
Lennon wrote that within minutes of the news of the earthquake last night, malicious links were already popping up on Google: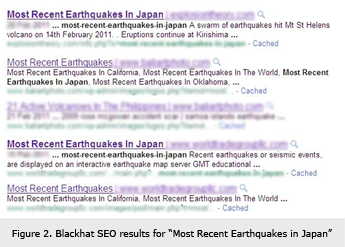 [
image courtesy of Trend Labs Malware Blog- Blackhat SEO attacks launched just minutes after news of the earthquake came in
]
Be wary.
Related Tags