Rock Band Reloaded launches on iPad and iPhone
iPad Rock Band Reloaded gets big drum mode and more.
Published Fri, Dec 3 2010 2:08 PM CST
|
Updated Tue, Nov 3 2020 12:32 PM CST
One of the coolest games to play with a group of friends if you ask me is Rock Band. I know I have spent more than one night with a group playing Rock Band on the PS3 and I have the game on my iPhone too for the times when I get really bored. If you are a fan of the franchise and have an iPad or iPhone, a new version of Rock Band has been unveiled.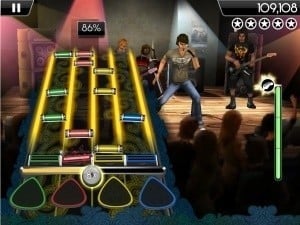 The new game is called Rock Band Reloaded. Reloaded is on the app store right now to download and it has a set list of songs that players should like. Artists include Nirvana, Billy Idol, No Doubt, Nine Inch Nails and Vampire Weekend. There are over 20 songs total on the game and new tracks will be launched. The big new feature of the game isn't tracks; it's a new fifth way to play the game.
Players can now sing songs directly into the iPhone, iPod touch, and iPad. The game uses voice recognition tech to capture your voice as the song is sung. There will be some new free tracks added to the App Store and premium track packs will come. The iPad version also gets an exclusive big drums layout and the game supports multiple players with WiFi and Bluetooth.
Related Tags