Asus Sandy Bridge motherboard line up
A look at the new Sandy Bridge based Asus boards.

Published Mon, Nov 15 2010 7:37 PM CST
|
Updated Tue, Nov 3 2020 12:33 PM CST
This is the working of Intel's "tick, tock" method - the Sandy Bridge being the "tock" and bringing a 32nm fabrication process. Arriving on the same train will be the 6-series core-logic chipsets. These new chipsets will be on a slew of updated LGA1155 socket motherboards.
Sandy Bridge's arrival is quite close - so motherboard makers are tent-poling to show their line ups. Today, we have the Asus 6-series motherboards to have a quick look through. As with other quite long articles, I'll post a quick speel and the pictures for you to tent-pole over yourself, there's a few surprises throughout!
First up, I will note Asus are readying 17... yes, seventeen! different 6-series motherboards for Sandy Bridge. But, even that number is lower than Intel's last CPU platform launch. 10 will be based on P67 - which won't use Sandy Bridges integrated graphics, 6 boards will use the graphics ready H67 chipset while the final board is looking to incorporate the business-focused twin Q67 chipset.
The first board to look at is the Maximus IV Extreme, the top end LGA1155 Republic of Gamers (ROG) board. Along with other goodies, it comes with a new temperature sensor tucked int
In addition to lavishing users with overclocking extras, this ROG board taps the Gigabit Ethernet networking Intel builds into its core-logic chipsets. Most motherboard makers ignore this "free" GigE controller in favor of standalone Realtek chips, which we've long suspected are cheaper to implement. Asus confirmed that to be true, but it's nonetheless committed to using Intel networking solutions on more of its motherboards.o the CPU socket. This sensor measures CPU pin temps - which is not available on any other board.
Secondly, we have an absolutely amazing looking board - which is being touted as a "TUF" line. Enter, Sabertooth P67: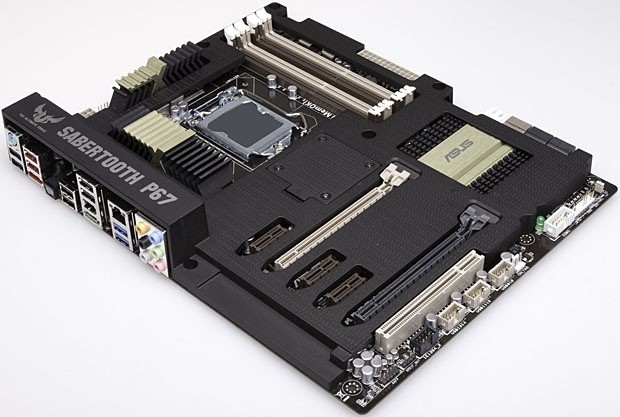 It is supposedly catered to those who want higher reliability. The Sabertooth P67 includes five-year warranty and "military-grade" electrical components. According to Asus these higher end components help TUF boards survive rigorous "server grade" testing. These tests involve higher temperature and humidity levels than are used to stress Asus' standard fare, and they also include sub-zero scenarios that aren't applied to other boards. On top of that, TUF boards are put through a "thermal shock" test that oscillates the temperature between extremes of -40 and 85C.
In keeping with the military theme, Asus drapes the Sabertooth P67 with a layer of bulletproof Kevlar dubbed the Tactical Jacket. While not actually consisting of kevlar, it is not just for looks... The Tactical Jacket is a plastic piece designed to direct airflow over various onboard components. Beneath its flat exterior lies a network of channels that pipes airflow generated by a CPU cooler to auxiliary peripheral chips that would otherwise have to rely on ambient convection.
Now that we have the special boards out of the way, a quick look at the other offerings.
There will be eight different P8P67 boards released - including Deluxe models, microATX and even workstation-oriented WS models. USB3.0 is on all boards, some feature four SuperSpeed ports, which the P8P67 Deluxe shows in the below picture: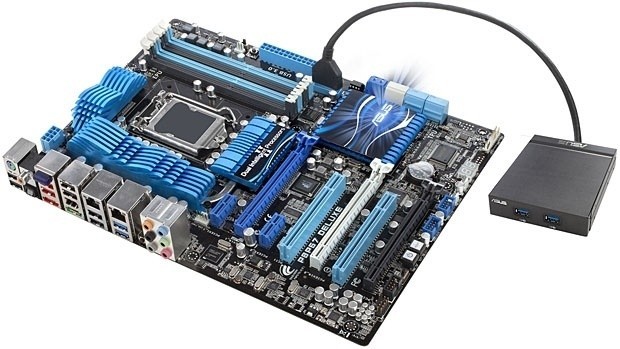 Here we have a shot of the P8P67 Pro: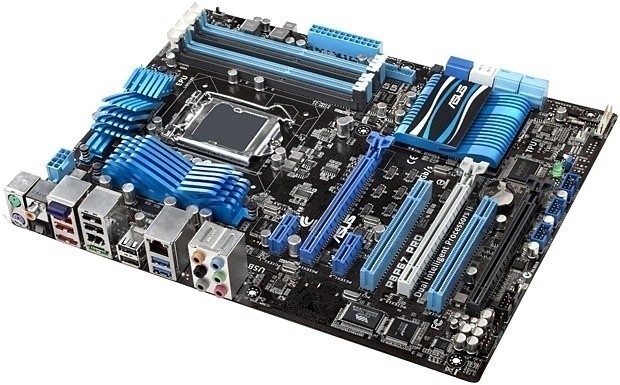 And lastly, we have a shot of the P8P67-I - it's the microATX offering, which may look small but includes a tonne and a half of features. PCI Express x16 slot? Check. USB 3.0, Wi-Fi, and Bluetooth connectivity? Check. 6Gbps SATA ports and dual digital video outputs? Check. Heck, the board even has a PS/2 port, eSATA, and a digital S/PDIF audio out. The only compromise seems to be the use of laptop-style SO-DIMM slots, a necessary evil to save board real estate for all those integrated peripherals.
Related Tags