Trendnet offers a pair of new USB 3.0 HDD enclosures
Trendnet offers new USB 3.0 HDD enclosures.
Published Wed, Nov 3 2010 10:02 AM CDT
|
Updated Tue, Nov 3 2020 12:33 PM CST
I am sure that there are tons of people out there that have old 2.5-inch or 3.5-inch HDDs lying around that are doing nothing other than collecting dust. Those drives are probably still good and you just don't want to trash them. Trendnet has a couple new external HDD enclosures that will let you take those old drives and make blazing fast external storage out of them. The new enclosures include the Trendnet TU3-S35 and the TU3-S25.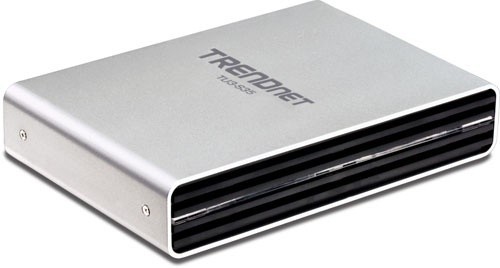 The two enclosures have the same features with one notable exception. The S35 supports 3.5-inch SATA I or II HDDs and the S25 supports only 2.5-inch SATA I and II HDDs. Both of the enclosures connect directly to the USB 3.0 port offering up to 5Gbps of transfer speed. The enclosures will support drives with up to 1TB or more of storage space.
The drive housings are both made from aluminum and that aluminum acts as a big heat sink for the HDD inside to keep it cool. The front of the housing has a power button to turn the drives off when not needed. The S35 enclosure will sell for $79.99 and the S25 enclosure sells for $59.99. Both of them will be offered soon online and in retail locations.
Related Tags