Galaxy offers gamers GTS 450 Hall of Fame edition video card
GTS 450 gets factory overclocked.
Published Thu, Oct 28 2010 10:04 AM CDT
|
Updated Tue, Nov 3 2020 12:33 PM CST
Galaxy is one of the card partners that offers NVIDIA video cards. Not too long ago when the GTS 450 debuted, Galaxy was one of the companies with cards on launch day. Those GTS 450 cards were decent enough considering the price the cards sold for. There were probably bunches of gamers out there that liked the price of the card and wished that the clock speeds were a bit higher. For those people Galaxy has unveiled the new GTS 450 Hall of Fame edition.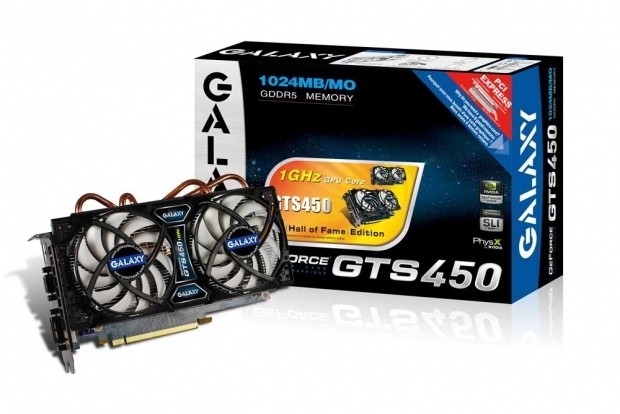 The HoF edition of the video card shares the common features of all the GTS 450's with support for things like DirectX and CUDA. The big difference in this HoF and the standard GTS 450 card is the clock speeds. Galaxy overclocks the HoF version at the factory with a graphics clock of 1000MHz, a processor clock of 2000MHz, and a memory clock of 4100MHz. The card also has a special 3+1 phase power supply for improved performance.
Another special feature of the HoF edition card is that it has a unique cooling system with dual fans and four heat pipes to draw the extra heat from the card. "Our new GTS 450 Hall of Fame edition demolishes the competition with a core clock of 1000Mhz." said Shane Vance, US Sales, Galaxy. "Our custom cooler, Samsung 0.4ns GDDR5 memory and Galaxy designed board allow us to achieve these insane speeds."
Related Tags