HyperMac will stop MacBook charger cable sales on November 2
HyperMac products using MagSafe Apple cables are in danger.
Published Mon, Oct 18 2010 10:02 AM CDT
|
Updated Tue, Nov 3 2020 12:33 PM CST
If you use a MacBook or an Apple device like an iPod or the iPhone, you may be familiar with HyperMac. The company offers some nice accessories like charge cables and external batteries for the Apple devices that will keep them powered up for longer. Apple sued HyperMac a while back for taking original Apple cables and modifying them for use in HyperMac products.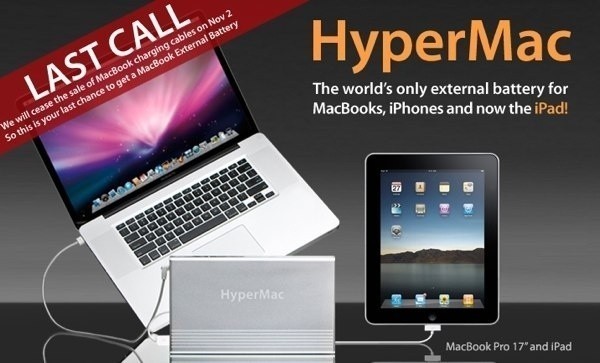 The suit prompted the start of licensing negotiations between the two companies, though no terms have been agreed to at this point. That means the end of HyperMac external battery packs for Apple gear. That also means that if you want one of the battery packs you will need to buy one while the getting is good. After the current supply, runs out there may be no more, and if you wait until after November 2, you will be out of luck.
Not all is doom and gloom though. Apparently, the cessation of sales of the existing cables was a requirement for negotiations for continued use of the MagSafe cables for HyperMac products. That could mean that the products will carry on. That said you could bet if HyperMac has to pay a licensing fee prices will go up. I would buy now if you want one.
Related Tags