Periscope offers new Lighted Folio for Kindle 2 and Nook
Periscope offers pink lighted Folio for eReaders.
Published Tue, Aug 24 2010 3:02 PM CDT
|
Updated Tue, Nov 3 2020 12:33 PM CST
With the iPad blowing up the market right now, the eReader isn't as popular as it was a few months before tie iPad was unveiled. Despite the fact that the iPad is selling better than many eReaders, there are still lots of folks out there who would rather just get a good eReader like the Kindle 2 or the Barnes & Noble Nook. If you are one of these sorts the lack of a backlight for the screen means you will need a light of some sort to read in the dark.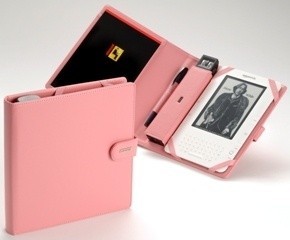 Periscope has been making its line of covers for various eReaders for a line time that have integrated lights. The company has announced that the latest version of its Periscope Lighted Folio is designed to work with the Kindle 2 and the Nook. The new Folio has the LED light inside powered by three AA batteries that is for reading in the dark.
The LED light is good for 40 hours of use per set of batteries. On the left side of the Folio is a 5 x 8 pad of paper and a place for a pen so the reader can take notes if needed. The new Folio can be had in black or pink colors. Either color sells for $49.95 and both are available right now.
Related Tags