LG forecasting huge growth for e-readers
Over 76% growth expected by the end of the year.
Published Fri, May 21 2010 9:46 PM CDT
|
Updated Tue, Nov 3 2020 12:34 PM CST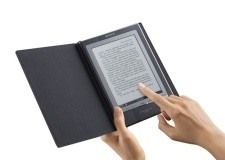 While many may believe that multifunction devices like the iPad will spell doom for the dedicated e-reader market, LG Display has a different outlook on things. The South Korean company, which is the second largest producer of electronic paper behind Taiwan's Prime View International, is forecasting 76-78% growth by the end of the year.
Shipments of electronic paper displays jumped to 5 million units because of the strong growth of e-readers like Amazon's Kindle, but the emergence of tablets like the iPad with their color displays, multifunctional abilities and touch functions have led many to believe the e-reader will be short lived and pushed to the side. MB Choi, Vice President of LG Display's electronic paper division, disagrees. "iPad is a multimedia gadget that also has digital reading. Pure e-readers, however, have their own advantages. They consume much less power, weigh less and are easy to read, among other things. They simply target a different customer segment, like those seeking a serious reading experience," said Choi.
While it's easy to believe that multifunctional devices like the iPad will cut into e-reader sales, competitive pricing could be something that keeps ereaders in the market. Not everyone has the 600 dollars to shell out for an iPad, especially if they have no use for all of the functions it offers. "With improved but limited multimedia functions, I think e-readers will find a segment and compete against the iPad," Choi said, adding LG Display would introduce a colour e-reader in the fourth quarter.
Related Tags