Creative shows off Zii Trinity Smartphone
Reference Design looing for a maker.
Published Tue, Dec 1 2009 1:03 PM CST
|
Updated Tue, Nov 3 2020 12:35 PM CST
I have said it before and I will say it again. Everyone is trying to get into the all too lucrative Smart Phone Market. This is being proven true by the announcement of Creative's Zii phone concept. The company known for bringing quality audio to the world of computer gaming and also known for its rather underhanded crippling of their own audio cards running under Windows Vista are now showing off a proof of concept phone.
This new phone is being dubbed the Zii Trinity for now. It does not appear that creative will be selling these directly to the public but is being shown off as a proof of concept and design in the hopes that some OEM will pick up the idea and run with it. For software potential manufacturers will have the choice of Android or Creative' s own Plazma. For hardware it supports quad-band GSM/EDGE as well as tri-band, 7.2Mbps 3G over HSPA but still carries the ZMS-05 chip that provides 1080p video decoding and hardware accelerated OpenGL ES 3D. This, on the surface seems to put it in a class equal to (maybe slightly above) the vaunted iPhone 3G S.
I will wait to see if anyone grabs onto this one though, after all NVIDIA has the current Terga and Tegra 2 hitting the market and these two SoCs are quite attractive in terms of performance and features, not to mention battery life. Still it could be a low cost, open alternative to the hardware in the iPhone in 2010.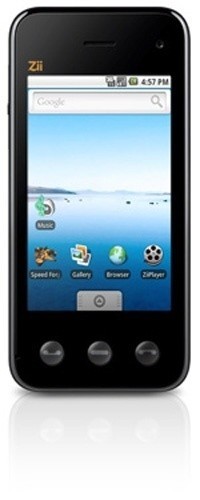 Related Tags