AMD into third version of Fusion Idea
Might make it out as a 32nm CPU.
Published Wed, Sep 16 2009 1:28 PM CDT
|
Updated Tue, Nov 3 2020 12:36 PM CST
AMD just pushed out a nicely priced quad-core CPU. This is the Athlon II X4 and you can get one of these for just under $100 US. Now this is all great, but there are some things going on behind this new launch that are a cause for concern.
You see, back when Hector Ruiz was planning the financial fiasco that would be the ATI acquisition, AMD and ATI were talking about a CPU with a native GPU built into a single die. This new product had the label of Fusion.
Well, AMD is now onto its third version (the last two were cancelled) while Intel in their typical fashion has its own version of this idea ready to launch by the end of the year. This is the same issue we saw with the first quad-core CPUs. AMD expounded on the virtues of having a "native" quad-core CPU, while Intel simply bolted two dual-cores together.
This is an issue that I truly hope AMD can address. They have a bad habit of announcing products and ideas only to sit back and fail to produce them in a timely manner. Fusion is a great idea and one that does have huge merit. But as this "idea" keeps getting delayed and design versions cancelled, it is one that I am concerned may never see reality.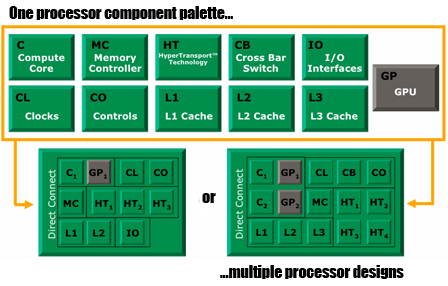 Related Tags