South African ADSL Slower than Carrier Pigeon
Or maybe it was a swallow, a laden swallow.
Published Thu, Sep 10 2009 11:58 AM CDT
|
Updated Tue, Nov 3 2020 12:36 PM CST
Looks like the broadband service in South Africa is not as fast as a single laden swallow. So it is certainly not faster than an un-laden swallow, or two swallows holding something between them. Now a European swallow...
Alright I will stop with the Monty Python bit. However it is funny that someone in South Africa discovered that it was faster to attach a USB Flash Drive to a carrier pigeon than it was to try and send the file by the local broadband carrier.
The data in question was a 4GB Flash drive that was attached to a young carrier pigeon. The bird named Winston then had to fly 60 miles to deliver his data. At the same time the file was being uploaded across an ADSL line.
Winston arrived with the data in a little over an hour while the internet upload took almost twice as long to complete.
Telkom (the local provider) says that they have offered solution to fix the speed issue (which I am pretty sure are much more expensive) but so far none of these have been accepted.
His should be no big surprise, after all whenever I call to complain about anything with my ISP they offer to "fix" it with a more expensive package.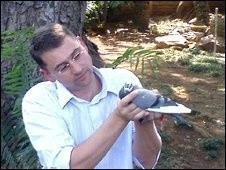 Related Tags