gScreen planning a dual screen 15.4-inch laptop
It is the exact opposite of a netbook.
Published Fri, Aug 28 2009 8:22 AM CDT
|
Updated Tue, Nov 3 2020 12:36 PM CST
If you have never heard of the company gScreen you are not alone. I had never heard of them either before this morning. But they are going to be in my head for a long time to come.
gScreen is coming out with a dual screen laptop. This is not like Lenovo's where they tacked on a small 10-inch screen to one side. No this is a full dual screen notebook.
And they did not scrimp on power either. According to the specifications this book 15.4-inch book will have some healthy power under the hood.
The first model listed is the gScreen SpaceBook 2009. It should have a 2.26 C2D, 4GB DD2, 320GB 7200 RPM HDD either an nVidia 9800M GT (512MB dedicated memory) or an nVidia Quadro FX 1700M again with 512MB memory.
The dual screen mechanism is designed so that if you do not need both screens it can slide out of the way. gScreen also has 16, 17 and 13-inch models planned for the future.
gScreen hopes to have these out to the hungry public by December of 2009.
Personally I am hoping that Santa can arrange a 17-inch version of one of these with a GTX280M, Core i7 Mobile, 6GB DDR3, and a couple of 500GB SSDs under the hood for Christmas.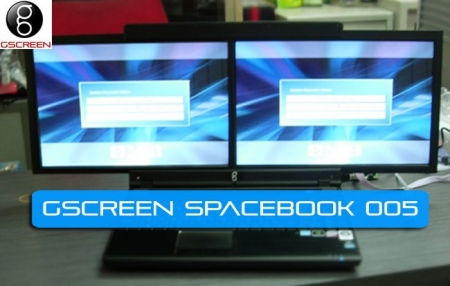 Related Tags