nVidia to make entry level LGA 1156 chipset
Discrete memory bus for IGP.
Published Mon, Aug 17 2009 8:13 AM CDT
|
Updated Tue, Nov 3 2020 12:36 PM CST
In the early part of last year there was talk that nVidia would not be making any new chipsets. According to the rumor at the time nVidia asked a group of OEMs if there was any reason for nVidia to continue; after a few minutes of silence nVidia made the decision to drop out of the chipset market.
This rumor seemed to be confirmed when it was announced that nVidia would license their SLI technology to Intel for the X58 chipset. This would not be in the usual NF200 bridge chip, but by actually enabling native SLI support for the X58. a few months later Intel announced that nVidia's current licensing did not cover new CPUs with an integrated memory controller. Things were not looking good for anything new in the mainboard world from the green team.
All that might be changing though as there are now rumors of an LGA 1156 chipset from nVidia. Unlike the past where nVidia would hit in the high-end and enthusiast market, the new boards appear to be all entry level with an IGP that has its own memory bus (64 bit).
This is an interesting area to enter as Intel has plans for 1156 CPU with their own IGPs in them in the near future. It is entirely possible that nVidia is banking on poor Intel graphics to drive consumers to pick up an nVidia product with a superior GPU in the same way that ION was superior to Intel's Atom platform.
The new chipset could be available in Q1-2010.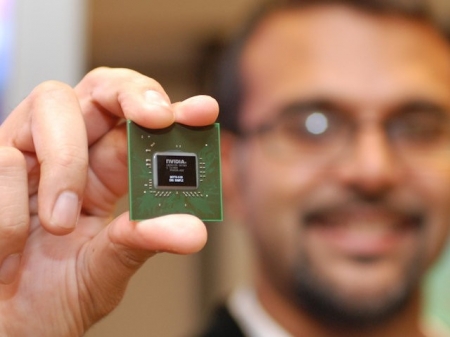 Source
Related Tags