Asus rolls out their 785G boards in style
three MicroATX and one full sized.
Published Thu, Aug 6 2009 10:05 PM CDT
|
Updated Tue, Nov 3 2020 12:36 PM CST
With the lifting of the NDA on the 785 is not s surprise to see everyone announcing mainboards with this new chipset from AMD on it.
So it is no surprise at all that Asus has let slip what they have planned.
According to the Asus Website (and a small blur on Fudzilla) There will be three 785 boards that have support for the AM3 and one with AM2+ support two of the boards are the same model except for the memory and CPU support.
The models are as follows
M4A785D-M Pro (both AM2+ and AM3)
This is a microATX board that features the AMD HD 4200 IGP but no extra sideport memory. CPUs of up to 125W TDP are supported.
M4A785TD-M EVO (AM3)
This is a microATX board that has the additional 128MB DDR3 sideport memory and also support for up to 140W TDP CPUs.
M4785TD-V EVO (AM3)
This is a full sized ATX board that is identical to the M4A785TD-M except for its size and additional slots.
All of these boards look to be pretty good, but as we found out earlier today they will not have full 7.1 Surround from the HD 4200IGP. This means they will lose out over existing Intel and nVidia based boards for the high-end HTPC and SFF market.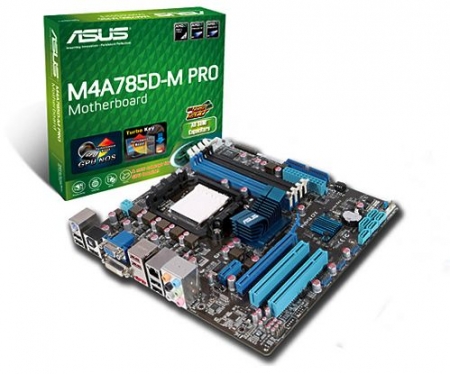 Related Tags