AMD Launches Phenom II TWKR CPU
Not to be available for purchase.
Published Wed, Jul 1 2009 12:43 AM CDT
|
Updated Tue, Nov 3 2020 12:36 PM CST
AMD has just launched the Phenom II 42 TWKR processor and those looking to get their hands on the chip are going to be quite disappointed.
AMD has hand picked the best of the best chips to bear the TWKR moniker and it seems they will be available in very limited numbers. Initial reports say that there are only going to be around 100 of the chips made available.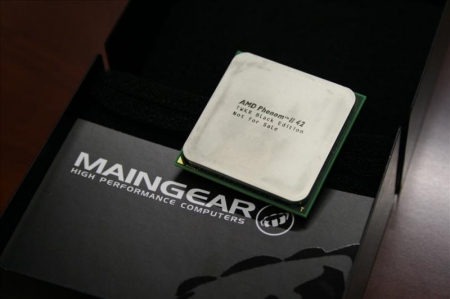 Available doesn't mean that they will be for sale though. AMD doesn't plan on any of these coming close to touching a shelf or having a price tag slapped on them. Instead they will be going back to the overclocking community where a select few will be lucky enough to get their hands on one. AMD considers this a tribute to those that push the limits, encouraging them to push even further. This makes the TWKR essentailly one big publicity stunt.
As for the 42, AMD says it is both a reference to the movie Hitchiker's Guide to the Galaxy in which 42 is the answer to the question of life, the universe, and everything, as well as denoting that the chip has 4 cores, all of which run at 2GHz.
MAINGEAR has a pair of them that they are giving away for free. Just go to
this page
and follow the instructions.
Related Tags