New FireFox 3.5 out today
But will it counter Chrome and Safari's rise.
Published Tue, Jun 30 2009 10:45 AM CDT
|
Updated Tue, Nov 3 2020 12:36 PM CST
There is a new version of FireFox out. Mozilla has just put the final version of FireFox 3.5 up on the web. From the early reports it looks like the new FF will be able to compete in the speed world with the likes of Chrome and Safari4.
The question now will be will the new FF give up security for speed like Chrome and Safari 4 have. But that is not the only concern, as Chrome and Safari gain a foothold FireFox finds its own market share affected. Opera is also gaining ground and once we see IE-Less versions of Windows 7 in the EU it will be an interesting fight for dominance.
If FireFox is your thing then head over to Mozilla and grab the newest flavor.
Read more
here
Grab FireFox 3.5
here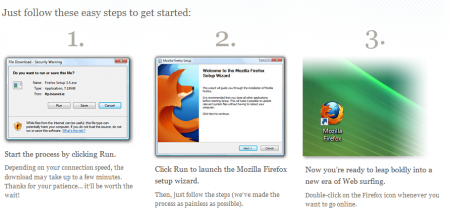 Even as Internet Explorer's market share has slipped--down a dramatic 8 percentage points to 65.5 percent in about the last year--Firefox programmers face a surprising question: should they be more worried about the programmers in Redmond, Wash., or about those working on Apple's Safari, Google's Chrome, and Opera?

Firefox has gained about 3 percentage points to 22.5 percent in market share, according to Net Applications' statistics since July 2008, and Firefox backer Mozilla doubtless hopes for more gains with the release of Firefox 3.5 planned for Tuesday. But Apple's Safari and Google's Chrome each gained 2 percentage points, to 8.4 percent and 1.8 percent, respectively, indicating a growing appetite for alternatives to Internet Explorer that's not completely met by Firefox. Opera stayed flat at about 0.7 percent.
Related Tags