Intel's new branding is a confusing mess
Core Blimey.
Published Wed, Jun 17 2009 5:58 PM CDT
|
Updated Tue, Nov 3 2020 12:36 PM CST
It would appear that Intel has gone a bit bonkers, with the firm revealing a new branding strategy which may as well have been written by Nvidia "experts." The 'enlightened' plan is to entirely scrap Core 2 branding in favour of Core i3, i5 and i7 along with Atom, Celeron and Pentium.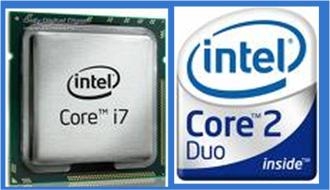 Intel's Bill Cader writes in a blog post that the firm has taken "a hard look" at its brand structure, and has decided it's all too much for us numbskulls to understand, forcing the firm to come up with a "more rational and easier" system.
"We have a complex structure with too many platform brands, product names, and product brands," splutters Cader apologetically adding "we've made things confusing for consumers and IT buyers." Really? Hands up who was confused. Oh, well, nevermind if you weren't, because either way, Cader promises "All that is about to change."
In addition to strengthening its "Intel sponsors of tomorrow" campaign, Chipzilla will also apparently be focusing its strategy "around a primary 'hero' client brand which is Intel Core". Really? How do I become a "hero"?
Cader writes that today Intel's Core brand "has a mind boggling array of derivatives." Not that we find Core2 Duo and Core 2 Quad to be incredibly mind boggling, but, ok, we're ready to hear if intel has a better solution. Don't hold your breath folks, it doesn't.
Instead of unboggling our boggled minds, cader writes Intel will simply do away with the Core brand and replace it with Core i3, i5 and i7, with Core i3 and Core i5 being "new modifiers" joining the Core i7 family. Apparently upcoming processors like Lynnfield will "carry the Intel Core brand, but will be available as either Intel Core i5 or Intel Core i7 depending upon the feature set and capability." As for Clarksfield (mobile), it "will have the Intel Core i7 name."
Now forgive us for nitpicking here, but Core 2 Duo versus Core 2 Quad versus Core i3, Core i5 and Core i7 - explain how this simplifies things?
Core 2 Duo versus Core 2 Quad clearly denotes what type of CPU you're getting and are brands with tremendous equity due to the fact they were responsible for Intel's re-taking the performance leadership crown from AMD.
Having a CPU (such as Lynnfield) with a Core i5 and Core i7 variant is, in our humble opinion, extremely confusing to customers. Come on, I5 and i7 - same product with different features, how exactly does this make sense?
How are inherently simple and descriptive brands like Core 2 Duo and Core 2 Quad more confusing than the Core brand with three modifiers that don't denote any differentiation other than a different number? How is the average punter at Best Buy supposed to decipher this when buying a platform?
To make matters worse, Cader continues on to say that Intel Core i3 will be entry-level, Intel Core i5 will be mid-level and Intel Core i7 will be high-level, but that Intel will still have Celeron for entry-level computing and Pentium for basic computing as well as Atom for netbooks and MIDs. So, if entry level core is Core i3 but entry level computing is Celeron, what on earth is the difference between entry level CPU versus computing? This is just plain confusing. Last time I checked Celeron is an entry level CPU and Core i3 is oriented towards performance users.
But ok, fine. In that case Intel, we'd quite like to know the difference between Celeron entry level computing and Pentium basic computing. Is this like infancy versus puberty? It makes no sense.
And if Pentium is better than Celeron in the good better best model spelled out in Cader's blog, does this mean that basic computing is better than entry level computing? Once again this makes absolutely no sense at all.
Oh, yes, and the Centrino processor technology brand is going to be "retired for PCs beginning next year," although Intel will apparently transition the name to its Wi-Fi and WiMAX products instead.
The whole debacle is almost as bad as NVIDIA's renaming an 8800 GTS 512 to a 9800 GTX, then again to 9800 GTX+ then GTS 250 (barring the minor clock increases, obviously).
And don't even get us started on how much this will probably all cost. Sheesh Intel, we expected a whole lot more from you.
Related Tags