nVidia CEO calls Intel cheats and AMD laggarts
talks up Tegra and Tesla.
Published Tue, Jun 9 2009 10:43 AM CDT
|
Updated Tue, Nov 3 2020 12:36 PM CST
I found this news post to be very entertaining, mere days after admitting that the CPU has a place in the future of computing and saying (in effect) that Intel aint(sic) so bad nVidia CEO Jen-Hsun Huang goes on a nice little rant about nVidia and how it is moving forward.
Haung spoke to Ashlee Vance over a plate of breakfast in Taiwan where he waxed enthusiastic about his role as CEO and head cheerleader for nVidia.
Haung stated that "The C.E.O. has to be the virus," saying that to build a company you have to kill some of it every day (corporate muscle failure?)
Haung also talked up Telsa and Tegra while bad mouthing Intel and AMD.
Read more
here
.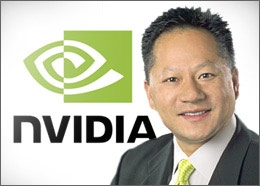 A number of Tegra-based products were on display at Computex -- most of them thin, cheap netbooks built by Taiwanese manufacturers like Foxconn and Compal. Later this year, phone companies will start selling the devices, which boast all-day battery life and strong graphics technology, at discounts to entice people into data-service contracts.

When it comes to championing these products, Mr. Huang's exuberance can rub people the wrong way.

Mr. Huang often describes Intel in flamboyant language as a lying, cheating rival that abuses its dominant position in the chip business. He criticizes A.M.D. as as a graphics laggard. He's relentless while pushing the idea that graphics chips will become more important and more interesting than standard chips as the world moves in a multimedia direction.
Related Tags