Cooler Master build PowerLine Ethernet into PSU
Shows it off at Computex 2009.
Published Fri, Jun 5 2009 8:44 AM CDT
|
Updated Tue, Nov 3 2020 12:36 PM CST
We have covered PowerLine networking adapters and while they are great for connecting hard to reach parts of your home they can be a little cumbersome as most are pretty bulky.
At Computex Cooler Master is showing off a rather interesting product that might help with some of that. This is a 700 Watt PSU with a PowerLine adapter built right inside.
The new PSU will feature the traditional powerline unit built inside the housing for a standard PSU. This means that to use the power line feature you will need to run a short Ethernet cable from the LAN port on your mainboard to the LAN Port on the PSU.
This is a great design and certainly one we will be looking into once they are available.
Read more
here
.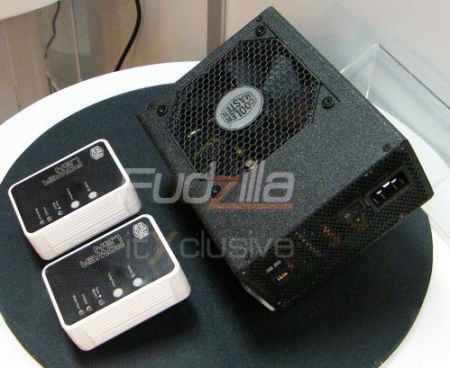 The slightly quirky bit here is that Cooler Master decided to put an Ethernet port on the rear of the PSU, so you'd have to attach a cable to it and connect it to the Ethernet port on your motherboard.

We'd like to see an implementation that offers a built in USB Ethernet adaptor instead which connects to one of the USB headers on the motherboard inside the case to reduce cable clutter, but at least this is a step in the right direction for the Ethernet over power lines technology.
Related Tags