New Acer Aspire One 571 does 720p
Supports VMedia.
Published May 15, 2009 10:49 AM CDT
|
Updated Tue, Nov 3 2020 12:36 PM CST
With ION raging about the ability to play 1080p video on a 10-inch screen we see what may be a much more attractive option coming out of a rumored Acer box.
The netbook in question could be called the Acer Aspire On 571 (not to be confused with 751). It features a Atom N280 (1.66GHz) and a Quantics Q1721 Multimedia Processor, this will take the burden of encoding and decoding the H.264 media content off of the CPU. The 10.1-inch display is a full 720p (which is more than enough on a 10-inch screen)
no word on pricing or when this will hit the streets but it looks promising.
Read more
here
.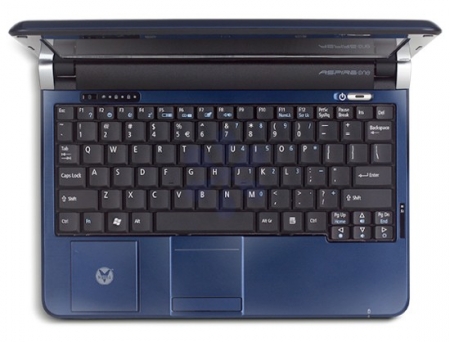 the Aspire One 571 looks an awful lot like other Acer netbooks, but it's the internals that set it apart. For starters, it's rockin' a 1.66GHz Atom N280 processor and a 1,280 x 720 resolution panel; sure it's still just 10.1-inches, but hey, we'll take 720p. Furthermore, there's a Quartics Q1721 Multimedia Processor shoved in there -- you know, so it can handle decoding and encoding of H.264 content while adding hardware scaling and filtering. Eager for more? That Vmedia comeback we heard about is on, as the left palm rest boasts one of the miniature optical drives
Related Tags