DDRdrive X1 SSD hits 300,000 IOPs
Hybrid SSD uses NAND and DDR Memory.
Published Mon, May 4 2009 9:00 AM CDT
|
Updated Tue, Nov 3 2020 12:37 PM CST
If you have been around the computer scene for any length of time you might remember one of the first SSDs out. It was a product that used DDR RAM and ran through a normal SATA port.
DDRdrive LLC, has decided to revisit some of that older technology, but this time instead of using the SATA port they are using a PCI-e X1 connection and they are also using a combination of NAND and DDR Memory.
The new product, called DDRdrive X1 can hit an amazing 300,000+ IOPs and seems perfect for I/O intensive tasks. It is not the greatest performer in read/write speed though; as it can only hit a peak of 250 MB/s read and 150MB/s in writes.
Read more
here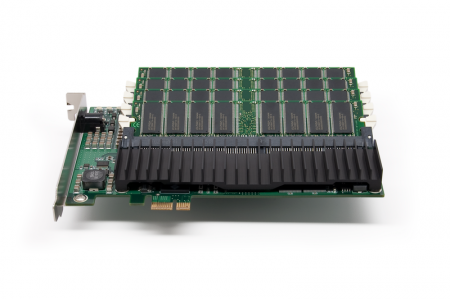 The DDRdrive X1 is a PCIe Gen 1-based hybrid SSD, that combines 4 GB of DDR memory and 4 GB of NAND flash memory. Both solid-state technologies work in concert to provide the superior characteristics of DRAM (speed, reliability, and longevity) with the NAND part used for backups. In terms of read/write speeds, the DDRdrive X1 is not that spectacular. Limited by the PCIe x1 interface it can "only" do about 250 MB/s in reads and 155 MB/s in writes. But it's the Input/Output Operations Per Second (IOPS), where X1 really shines. A single drive can hit 300,000+ IOPS Random 512B Reads and 200,000+ IOPS Random 512B Writes. That's a massive bump in operation speed compared to practically all other solid-state drives currently in production. For comparison Fusion IO's enterprise drives are estimated at 200,000 IOPS 512B read, while other consumer SSDs are rated at about 100,000 IOPS 512B read.
Related Tags