Shuttle Introduces X Vision X50 SFF PC
Leading a new age of All-in-One PCs.
Published Wed, Mar 18 2009 4:16 AM CDT
|
Updated Tue, Nov 3 2020 12:37 PM CST
Shuttle announecd the new X50 SFF all-in-one PC today. The new X50 is part of the company's all-new product line.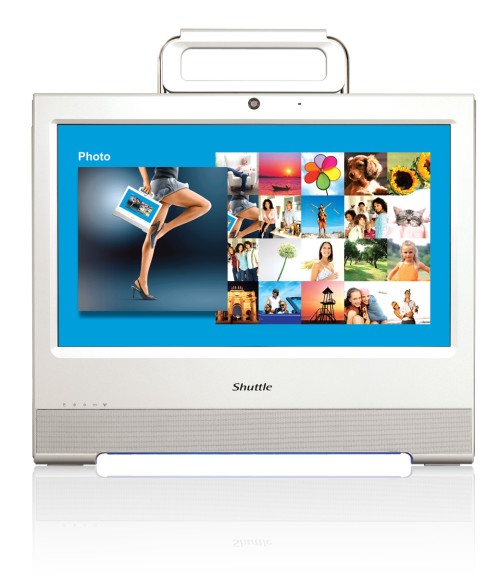 The X50 incorporates a touch screen into a 1.4 inch thin enclosure and can be used with either your finger or the included stylus. It is powered by the dual-core Atom 330 processor, has 1GB of RAM, a 160GB hard drive, and 802.11n wireless capabilities.

Other than the 15.4" integrated touch screen, the Shuttle X50 also features a built-in 1.3 MP webcam. The stand also doubles as a carrying handle and can be removed for VESA wall mounting.
The full press release can be found
here.
(Taipei, Taiwan, 18 March 2009) Shuttle Inc. - the leading designer and manufacturer of small form factor (SFF) computers and accessories today introduced X50, an all-in-one PC, as part of its all-new product line - Shuttle X Vision. X Vision represents a core value of Shuttle - an uncompromising insistence on quality and innovation, and Shuttle will continue to lead the way with its "VISION for neXt generation PCs" line.

The new X50 integrates state-of-the-art touch and small form technology, offering an intuitive interface that empowers both novices and professionals. The 15.6-inch all-in-one PC combines all the essential applications into a single device that starts up quickly, with a simple touch of the screen by finger or included stylus pen. Even the stand itself brings a unique touch - it is convertible, and can be flipped upward to reveal an easy carrying handle, or be completely removed for VESA ready mounting. That makes the X50 very versatile and suitable for a wide variety of applications and settings, including digital signage or kiosks.
Related Tags