Futuremark launches browser benchmark
Peacekeeper to heat up the browser wars.
Published Thu, Mar 12 2009 12:39 PM CDT
|
Updated Tue, Nov 3 2020 12:37 PM CST
According to a press release from Futuremark today they have officially entered the browser wars.
Futuremark has gone and made it possible to once and for all know what browser is more efficient running code and rendering using their newest benchmark named Peacekeeper.
The benchmark available online uses javascript to perform a series of tests from rendering to browser searches. Futuremark claims this will indicate just how fast your browser is. Personal testing with IE 8 Beta 2 Vs FireFox 3 shows that FireFox is still faster.
Read the full PR
here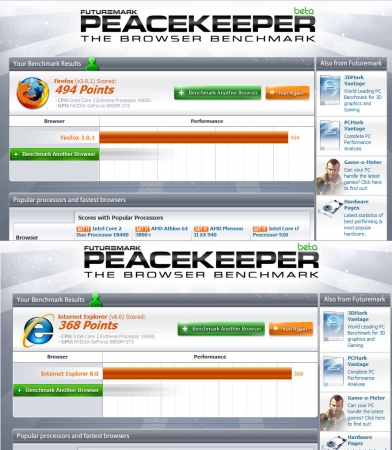 So far, words have been the only shots fired in the long-running browser wars. Now, with Peacekeeper web users finally have an easy to use, impartial tool for measuring and comparing the performance of different web browsers.

Peacekeeper is a new online benchmark from Futuremark that realistically simulates the load placed on the browser by common JavaScript functions as used by popular, modern websites. For users who prioritize speed and performance, Peacekeeper helps answer the question of which browser is best for them.

Jukka Mkinen, Head of PC Products and Services at Futuremark, said, "People have more choice now in how they experience the internet than ever before. But they may not realize that performance between browsers can vary dramatically, especially on lower-end PCs. With Peacekeeper, it's simple to compare different browsers and see which one offers the best performance on your PC."
Related Tags