Computer Graphics Chip Shipments Dive in Q4 '08
According to Jon Peddie Research.
Published Thu, Jan 29 2009 12:58 PM CST
|
Updated Tue, Nov 3 2020 12:37 PM CST
The economic downturn hurt GPU sales in the final quarter of 2008.
At least that is the case according to Jon Peddie Research.
The study followed the sale of Graphics chips over the course of eight years and compared them. Jon Peddie Research did not limit the study to Desktop GPUs but also covered the entire range of products that ship with a Graphics Chip.
The study found that Q4 2008 suffered an incredible 34% drop over Q3 and 2% drop over Q4 2007.
They also broke down the numbers by manufacturer finding that out of the big three (AMD, nVidia and Intel) nVidia had the largest drop when comparing year to year and AMD was behind comparing Q3 to Q4.
Read more
here
.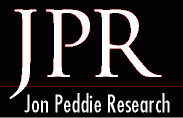 GPUs are used in industrial and medical systems, point of sale terminals, kiosks, digital signs, and PCs. And, in the case of over one third of all PCs being shipped today, more than one GPU is being used Total shipments of GPUs for Q4'08 was 72.35 million. During the same quarter last year, 100.5 million GPUs shipped, and in the previous quarter, Q3 '08, 111.26 million units shipped representing a 34% drop quarter to quarter and a -2% drop year over year.

This is the first time Q4 shipments have decreased compared to Q3 since the year 2000.
Related Tags