Minority Report Interface Arrives
g-speak OS shown off.
Published Wed, Nov 19 2008 6:19 AM CST
|
Updated Tue, Nov 3 2020 12:37 PM CST
If you saw the movie "Minority Report" the one thing that probably stuck in your head (other than how bad the acting was) was the very cool hologram screen used by Tom Cruise in the beginning of the movie. At the time I thought it would be very nice to have a setup like that.
If you were like me then your wait might be over. Oblong (a group of inventors that includes one of the advisors to the movie) have come up with an interface that is very much like the one shown in the movie. The new setup is galled g-speak and only takes a hi-res DLP projector, special gloves, a large room, and an insanely expensive infrared camera to work.
Engadget has a video and more on this
here
.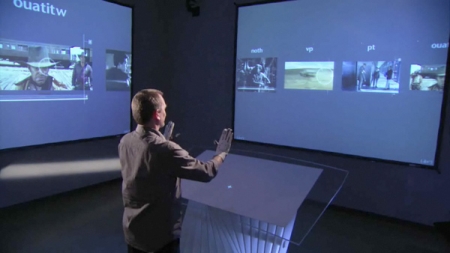 If you've been waiting for that Minority Report-style interface to really come to fruition, you can finally exhale. One of the science advisors from the Steven Spielberg film -- along with a team of other zany visionaries -- has created an honest-to-goodness, real-world implementation of the computer systems seen in the movie. Dubbed g-speak, the mind bending OS combines "gestural i/o, recombinant networking, and real-world pixels," to deliver what the creators call "the first major step in [a] computer interface since 1984." There are some things that need to seen to be understood, so watch the video after the break, and prepare to have your mind thoroughly blown to bits.
Related Tags