Hardcore Reactor PC uses liquid submersion
First fully submerged PC commercially available.
Published Oct 27, 2008 8:36 PM CDT
|
Updated Tue, Nov 3 2020 12:38 PM CST
1 minute & 25 seconds read time
A relatively small fish in the computer industry, Hardcore Computers has just lived up to its name in a big way, making its presence known all over the web.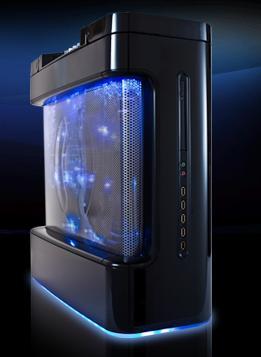 The company has just unveiled its latest creation, and what a hardcore piece of hardware it is. The Reactor is the first commercially available PC whereby the components are fully submerged under a custom dielectric liquid they call Core Coolant.
Developed for a wide range of uses to gamers, graphic artists, audiophiles, military technologists and whoever else that wants something unique and mezmerising and has the $$$$ to support it, the Reactor
incorporates the benefits of liquid submersion cooling with twin additive and redundant server-class 650Watt power supplies; audiophile-quality Creative Labs X-Fi, EAX, 7.1-channel Dolby digital surround sound embedded on the motherboard; three on-board SATA solid-state drives configured in an ultra-fast RAID 0 array; and two truly hot-swappable external hard drives.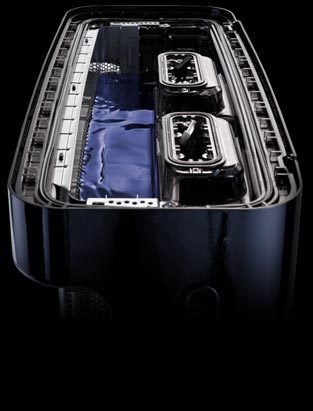 You can purchase the Reactor directly from the company at their
own website
as either a pre-configured system or built to specification via their system configurator facility. Pricing begins at somewhere around the $4,600 mark; hardly surprising.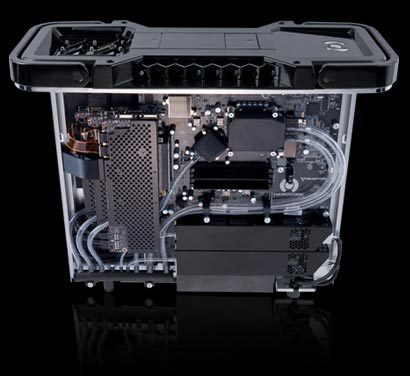 You can learn more about the Reactor
here
.
Form following function, Reactor has a distinctive look. Locating the majority of I/O on the top of the case for easy access resulted in the unique Spinal Cord cable management system, another industry first for a desktop system. Also on the case top are optional, dual, diversity Wi-Fi antennas. The system chassis incorporates handles that serve as a means for transporting Reactor. The handles also aid in the removal of the system core, which includes all of the computer's active components, from the liquid for maintenance or upgrades. Over-clocking enthusiasts will appreciate a CMOS battery and BIOS reset switch located on the lid, inside a push-push access hatch door. Reactor also sports user-selectable internal tank and chassis base lights.

The result is a cool and quiet state-of-the-art system that provides full-throttle processing, sustained over-clocking, HD/3D realism with maximum frame rates, an easily upgradable modular design and a rugged custom chassis. The liquid submersion technology also ensures stable, 24/7/365 hardware reliability.
Related Tags