Intel Z370 Motherboard Buyer's Guide
Need to buy a Z370 motherboard? Let us guide you.
Published Jan 17, 2018 6:00 PM CST
|
Updated Tue, Nov 3 2020 6:58 PM CST
19 minute read time
Introduction and What to Expect
So you are building a new system centered around Intel's latest 8th Generation of Core processors, and you don't know what motherboard to buy. You have read reviews, but still can't make up your mind, so you start researching each motherboard on the forums and other outlets where people talk about details.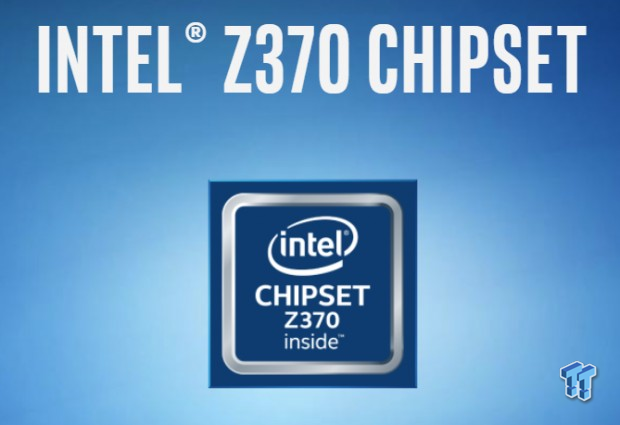 If you are like many people, you probably haven't learned the ins and outs of the circuitry on a motherboard, and this guide will compare many of the different implementations of hardware we see on Z370 motherboards. The guide will help you traverse the sea of motherboards with more ease, and help you make a better decision when it comes to buying a motherboard.
Let's starts with the first step; cost. Z370 motherboards aren't the cheapest, and most people leave the motherboard as one of their last parts, and typically only spend as much as they can afford. Within that range, you will come to a few models that might entice you. Once you figured out your price, then you can focus on features you need. Your needs can depend on anything from how many M.2 slots you need to the need for RGB LED headers.
Our guide will help you differentiate between everything from types of USB type-C port implementation to voltage regulators found on the market. Since there are a lot of competitors in the motherboard world it's easy to come up with a rule of thumb for pricing; more expensive motherboards are typically higher quality and offer better feature implementation. Although that isn't always the case, we do find general trends that make it true.
The Chipset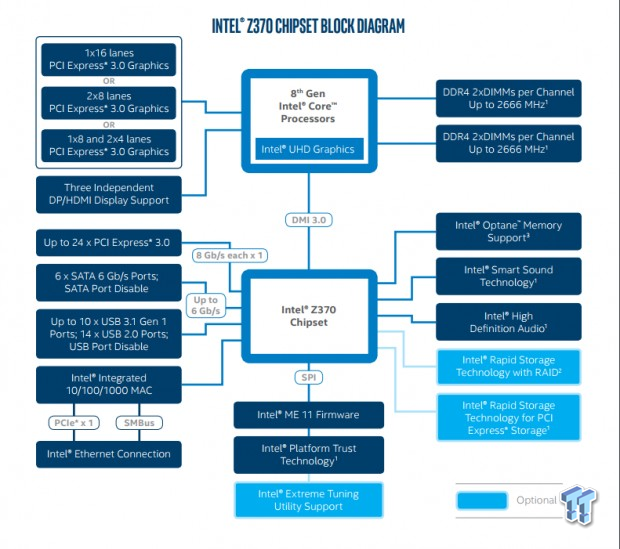 The Z370 platform is much like the Z270 platform; it offers the same features but support for the new 8th generation of Core processors. The socket has a few more pins that were not used on Z270 motherboards set up to improve power delivery on Z370 motherboards.
The CPU still offers x16 PCI-E 3.0 that can be split into two x8/x8 slots or three slots at x8/x4/x4. Two DRAM channels support up to four memory DIMMs at 2666MHz, and the CPU also offers integrated GPU outputs. The chipset is where most of the IO comes from. That includes USB 3.0, SATA6Gb/s, and PCI-E lanes for devices. Every device from a USB 3.1 controller to your LAN utilize PCI-E lanes for connectivity to the system.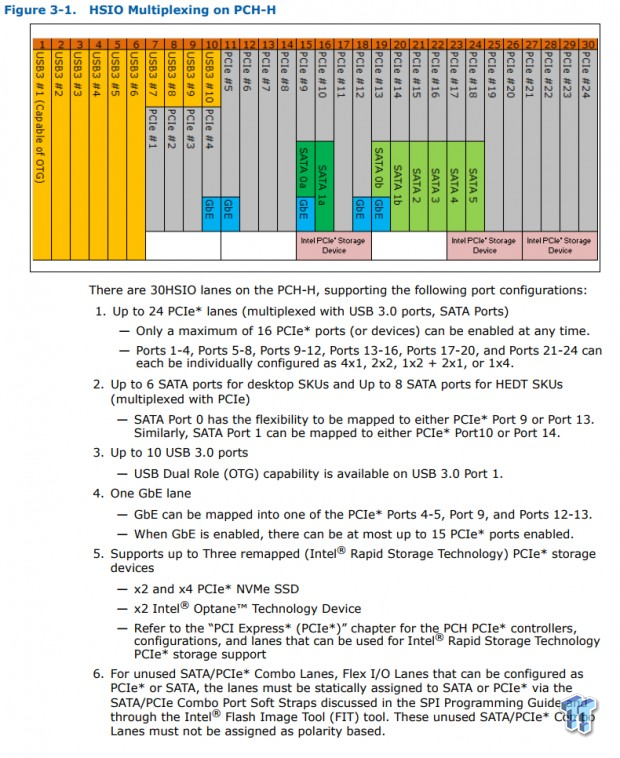 Intel's Z370 PCH offers 30 high-speed IO (HSIO) lanes. Of the 30 lanes, 24 offer PCI-E, SATA, and USB; 14 of those are flexible. Flexible lanes can be configured as two or three different types of ports (LAN PCI-E, PCI-E, SATA, or USB). Of the first ten ports (out of 30), six have to be USB, and the remaining four can also be configured as USB, for a total of 6-10 USB 3.0 ports from the PCH. Six of the flexible lanes can be SATA6Gb/s.
Three groups of four PCI-E/flexible PCI-E offer Intel PCI-E storage/RST support, and those groups are typically used for M.2 slots, and they support RAID of the M.2 slots. There are a total of five ports that can be used for Gbit LAN. All of the bandwidth from the devices goes through the direct media interface to communicate with the CPU, which is rated for x4 8GT/s lanes, which is like x4 PCI-E 3.0 or 3.5GB/s of raw bandwidth.
What to Expect
This guide will go over the different layouts, systems, circuits, and features that different Z370 motherboards provide. It will also provide insight into factors you should beware of, such as USB 3.1 ports, controllers, type-C controllers, and even little-hidden tricks vendors use. I will cover these differences between motherboards and different chips used, and attempt to rank certain things such as VRMs and controllers.
I will typically show you the best offered on the market (typically on motherboards that cost over $200), and then what's typical on the market (typically on boards that cost $150-200. This guide will not tell you exactly what model to buy, for that, you have our reviews. This guide will give you more insight into reviews, motherboards, and the Z370 platform in general.
I also strongly encourage anyone who is looking to buy a motherboard to download the user manual from the product website. Motherboard manuals are extremely useful, and vendors put a lot of effort into making them mistake-free. The manual will alert you to everything from switching and sharing of bandwidth to the type of fan headers used on the motherboard.
Storage and Connectivity Considerations
Storage Considerations
Storage comes in many shapes and sizes. The standard SATA6Gb/s connection has been made obsolete with the advent of the M.2 slot, which offers up to 32Gb/s. However, SATA devices are easier to cool and are widely popular for HDDs, since the M.2 form factor is very small. SATA Revision 3 is what you find on Z370 motherboards, it's rated for 6Gb/s, so I call it SATA6Gb/s. The best M.2 slots support both SATA (6Gb/s) and x4 PCI-E 3.0 (32Gb/s).

Let's start with SATA6Gb/s. Almost all motherboards offer at least six SATA6Gb/s ports, although there are some boards with only four. If you find more than six SATA6Gb/s ports, then the extra ports need to come from a 3rd party controller connected to the PCH (chipset) through a PCI-E lane.
In the image above, the motherboard has six ports connected to the PCH boxed in blue and two connected to an ASMedia ASM1061 SATA6Gb/s controller boxed in red. You also see a USB 3.0 right-angled internal connector. These right-angled connectors offer a better look, but check your case to ensure you have enough clearance because internal USB 3.0 wires are bulky.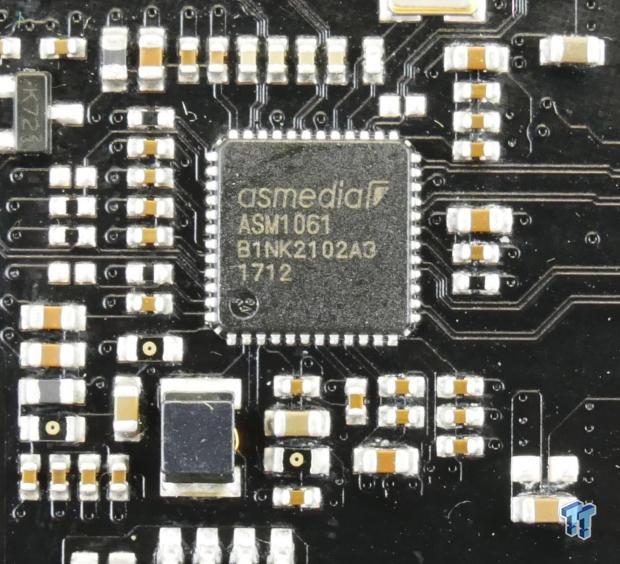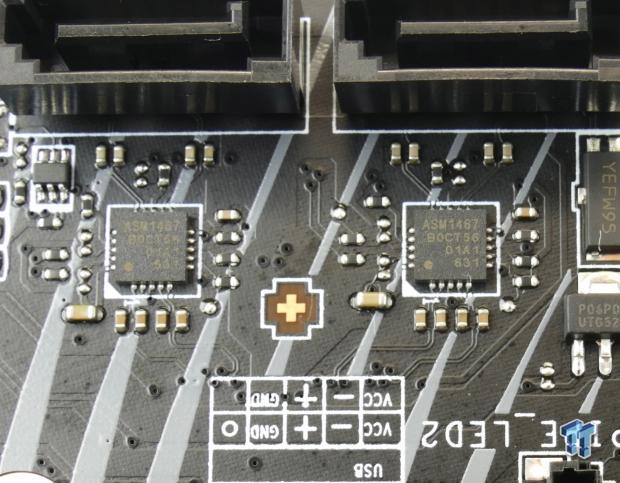 The Intel ports are better than the ASMedia, but most of the time, SATA6Gb/s ports share bandwidth with M.2 slots. One M.2 slot can be connected to the PCH directly and not interfere with SATA ports, but if you have more than one M.2 slot, it's possible that one or two of those share bandwidth with at least one SATA port.
Your manual will tell you what configurations are allowed. It's very rare, but sometimes you might find re-drivers for SATA ports. On the board above we found two ASMedia ASM1467 re-drivers that are meant to improve SATA signaling, either because it was degraded after going through switches (share with M.2), or because the vendor wants to offer stronger signaling. Either way, it's great to see them because it's a cost vendors can't easily market.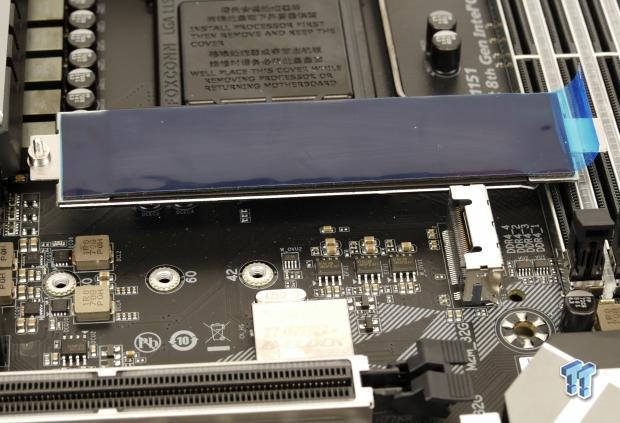 Not all M.2 slots are the same, not all of them offer SATA support as well as PCI-E support. PCI-E support is there by default, and most M.2 slots offer x4 PCI-E 3.0 (32Gb/s). M.2 cards are very fast, but many of them have controllers that heat up, so vendors have added heat sinks. I like the heat sinks from the vendor above a lot, and that's because it has mass and is super simple to install since the screw is held in place for you.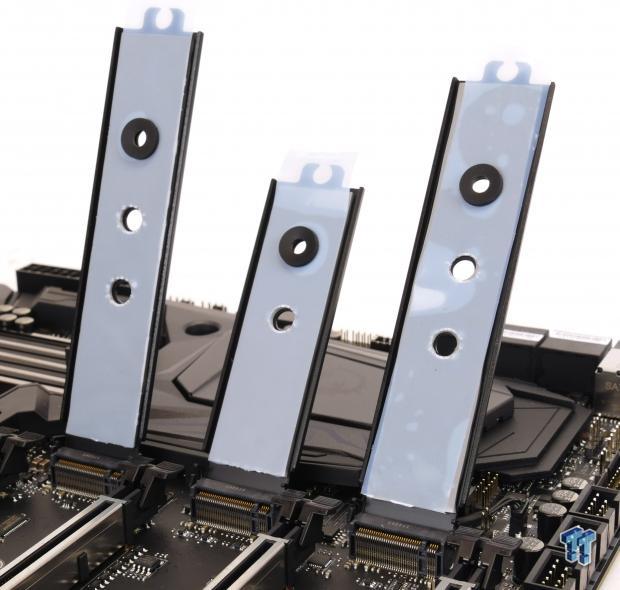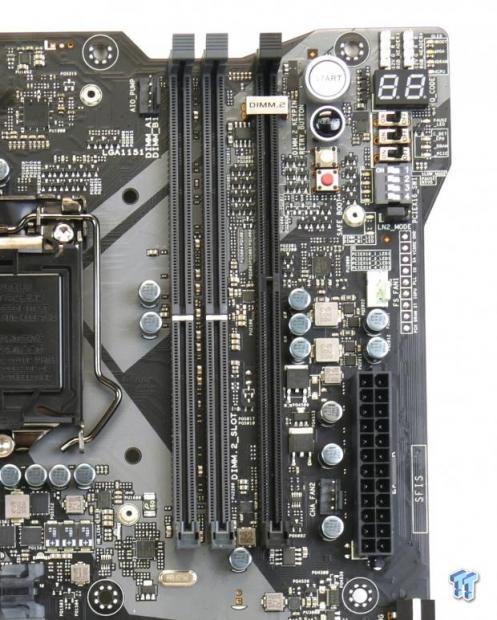 Some vendors even include heat sinks for all three M.2 slots. No motherboard has more than three M.2 slots soldered on the motherboard, but some of them come with PCI-E cards that come with M.2 slots on them. One vendor has taken a different approach to M.2 drive cooling.
The vendor on the right has implemented a technology called DIMM.2. So basically, it moves M.2 slots to a daughterboard that plugs into a modified DDR3 slot. The purpose of moving the M.2 cards into the RAM area is for cooling. You can easily mount a fan to blow down on the cards while not interfering with the GPU real-estate, or you can use a RAM fan to cool the RAM and M.2 drive(s). A heat sink isn't mandatory by any means, but some people like to keep things as cool as possible.
USB Considerations
There are many different types of USB ports. First, let's talk about the new naming convention for USB 3.0. USB-IF has renamed USB 3.0 and USB 3.1 to USB 3.1 Gen 1 and USB 3.1 Gen 2 because USB 3.0 and 3.1 specifications are very similar except in regards to speed.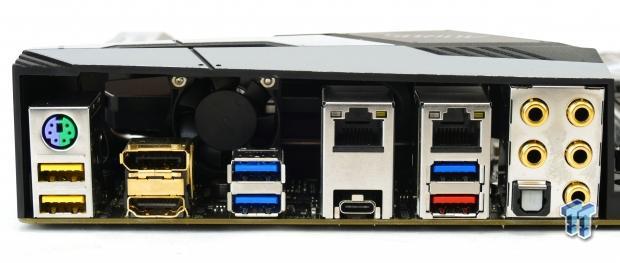 USB 3.1 Gen 1 (USB 3.0) is rated for 5Gb/s and typically are full-bodied blue. USB 3.1 Gen 2 (USB 3.1) is rated for 10Gb/s and typically comes in the color red (MSI and GIGABYTE) or light blue (ASRock and ASUS). Type-C ports can offer USB 3.1, USB 3.0, or even ThunderBolt 3. Some custom ports exist as well, such as the yellow ports you see above that are USB 3.0 with power modification. We also still find USB 2.0 ports on the motherboard, they are typically black.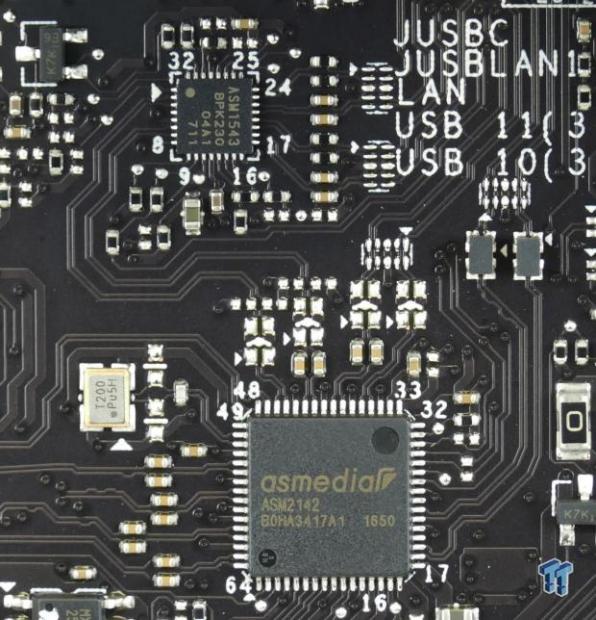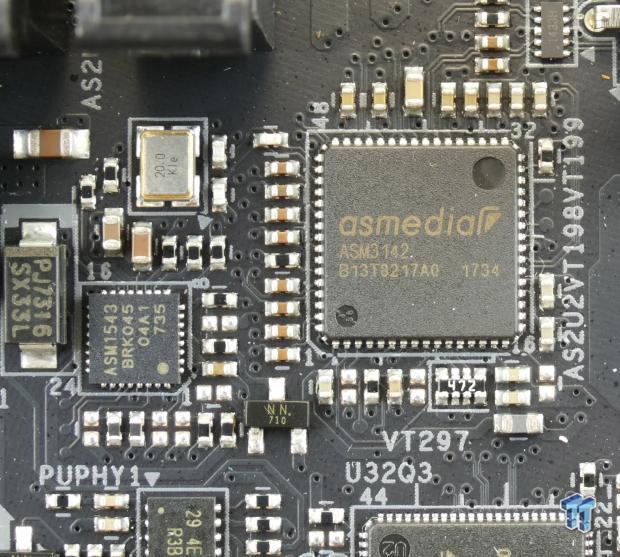 So far, we only find ASMedia USB 3.1 controllers on motherboards. The ASMedia ASM1042 offered two USB 3.0 ports, and then the ASM1142 replaced it offering two USB 3.1 ports. The ASMedia ASM2142 then came on the market, and offered two USB 3.1 ports, but it allowed for two PCI-E 3.0 ports to connect to it, providing much more bandwidth for two USB 3.1 ports.
The ASMedia ASM3142 is the most common USB 3.1 controller on mid to high-end Z370 motherboards, and it offers power consumption reductions and slightly better performance. We do find the ASMedia ASM2142 on a few Z370 motherboards such as the one on the left, while the ASM3142 is more common (board on the right). While providing output to two USB 3.1 type-A (normal USB) ports doesn't require a switch chip, the new Type-C ports do require a switch. The most common USB type-C port switch is the ASMedia ASM1543, it offers type-C CC logic and switching capabilities. However, even those switch chips have variations.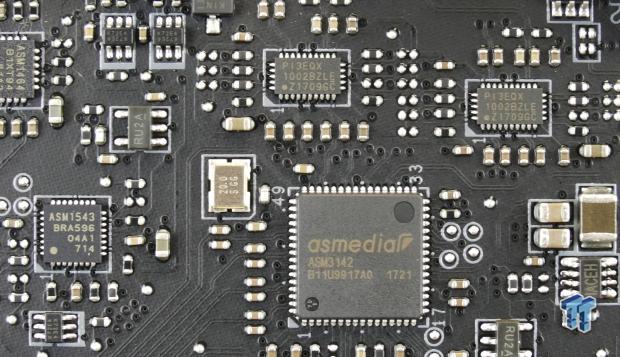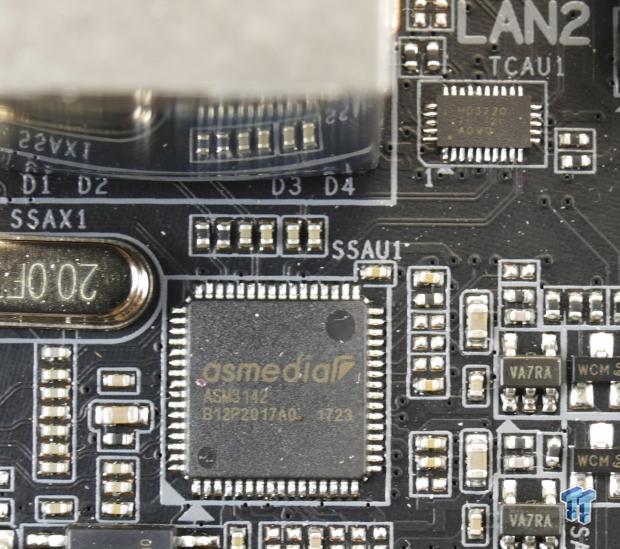 The best USB 3.1 implementation I have seen so far was for an internal type-C header. It uses the ASMedia ASM1543 switch/CC logic controller (the Texas Instruments TPS65982 also adds better power delivery but is not typically found on Z370 motherboards, but it is on a few X299 boards), two Pericom PI3EQX USB re-drivers, and uses an ASMedia ASM3142 controller. I also find implementations with the ASMedia ASM3142, but with a Texas Instruments HD3SS3220 type-C switch.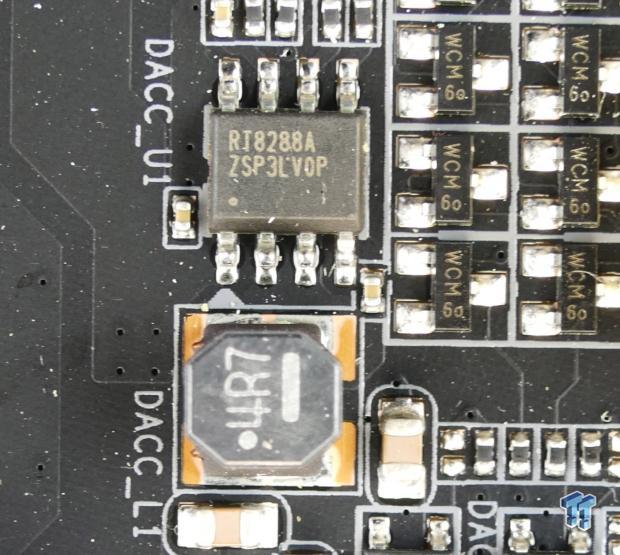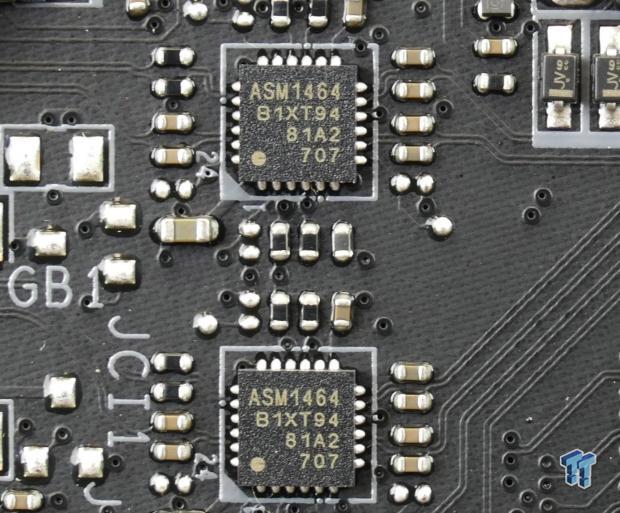 Earlier we saw two yellow ports on the rear IO of a motherboard; the ports were yellow because that vendor implemented a feature where you control the power level provided to the USB ports. The implementation uses a Richtek RT8288A to provide voltage levels above 5v (for very long cables) or to cut off all USB power and only provide data (for an external DAC).
Some motherboards also feature USB re-drivers, the most common is the ASMedia ASM1464. The re-drivers improve signals that are a far away from the PCH, or to provide better signal integrity for internal headers. Most vendors will advertise these features with the words power or something along the lines of a better VR experience.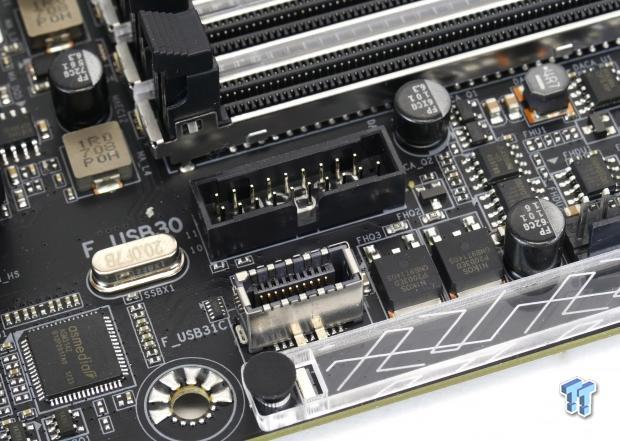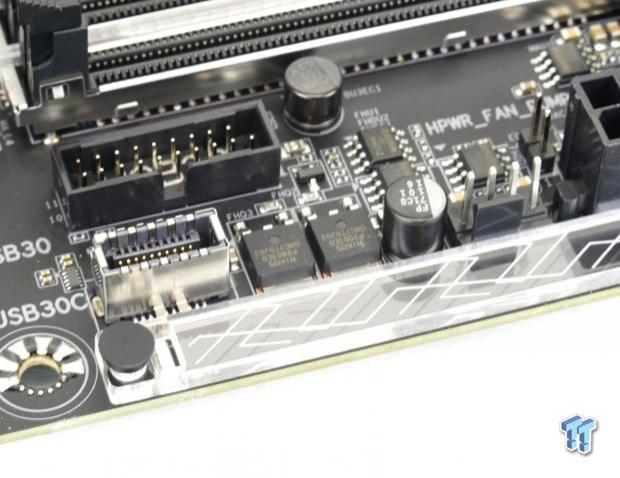 The same vendor produced both of the motherboards you see pictured above. They both have USB type-C internal headers, but the one on the left has a USB 3.1 internal header while the one on the right has a USB 3.0 internal header. You will notice that the naming of the port on the PCB is different, but if you didn't look closely you might think all USB type-C internal headers are USB 3.1, but they are not.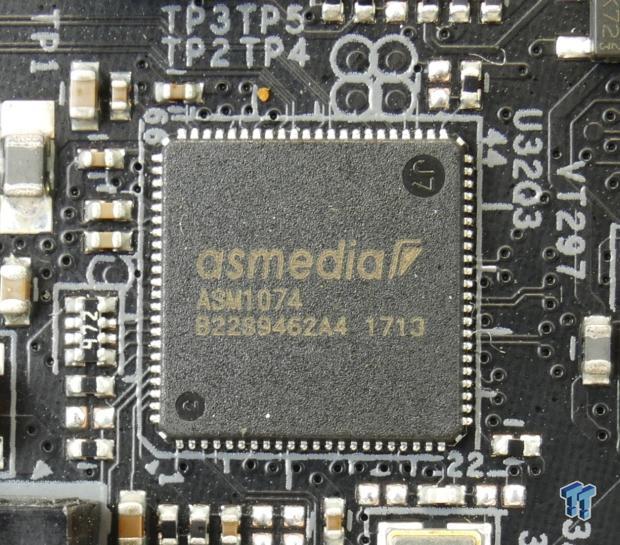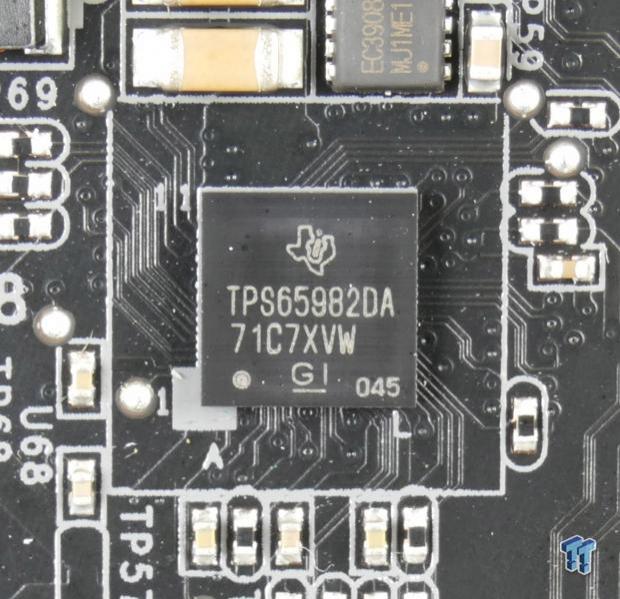 While the motherboard offers a lot of USB 3.0, most of that is routed to the rear IO, and often you don't have four leftover ports for two internal USB 3.0 headers (each header produces two ports). Vendors typically use a USB 3.0 hub to expand one or two ports into four. They can either route one port to the hub and get four out, or route one port direct and one to a hub that gets expanded to three more ports for a total of four. The former (1:4) is more popular (than 1+1:3).
The ASMedia ASM1074 is the most common USB 3.0 hub, but there are some from Realtek such as the RTS5411. The TPS65982 is a very nice, but expensive, USB 3.1/ThunderBolt 3 type-C controller chip and is almost never used for USB 3.1 on the Z370 platform. The picture above was taken from a motherboard with ThunderBolt 3, and while we have seen this chip used for just USB 3.1 on some X299 motherboards, we haven't seen it yet on a Z370 motherboard (at least not to our knowledge).
Other Connectivity Considerations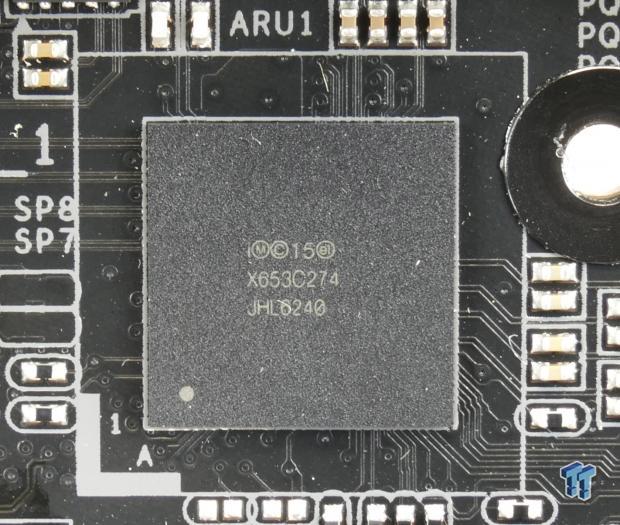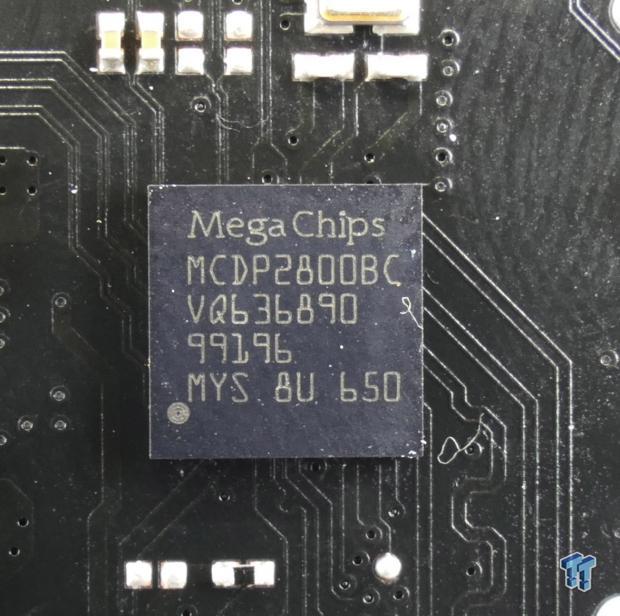 There are three Alpine Ridge series ThunderBolt 3 controllers you might find on a Z370 motherboard. The DSL6540 uses x4 PCI-E 3.0 and provides two ThunderBolt 3 (type-C) ports, the DSL6340 uses x4 PCI-E 3.0 and provides one ThunderBolt 3 port, while the JHL6240 (controller pictured above) uses two PCI-E 3.0 ports and provides one ThunderBolt 3 port.
Most motherboards also offer HDMI and DisplayPorts on the rear IO panel, but the CPU's iGPU doesn't offer HDMI 2.0. If you want HDMI 2.0 from the iGPU's rear IO panel ports, you need a chip such as the MegaChips MCDP2800 DP to HDMI 2.0 level shifter, which takes digital video signal from the iGPU's output and produces an HDMI 2.0 port. There is also a Parade chip that you might find for HDMI 2.0.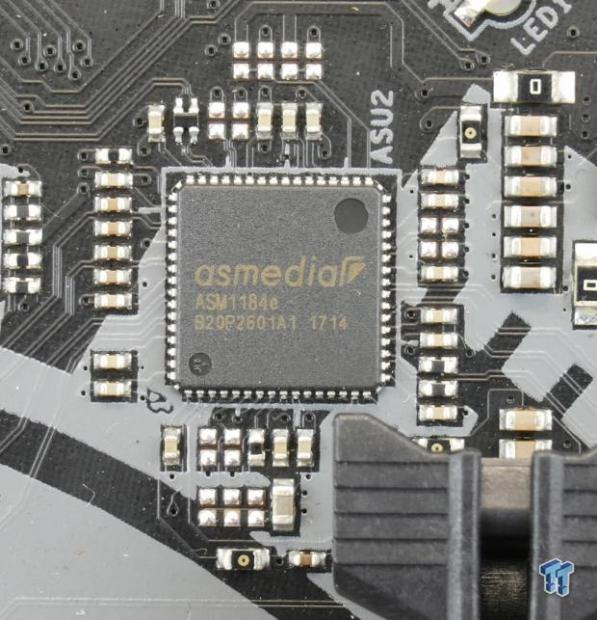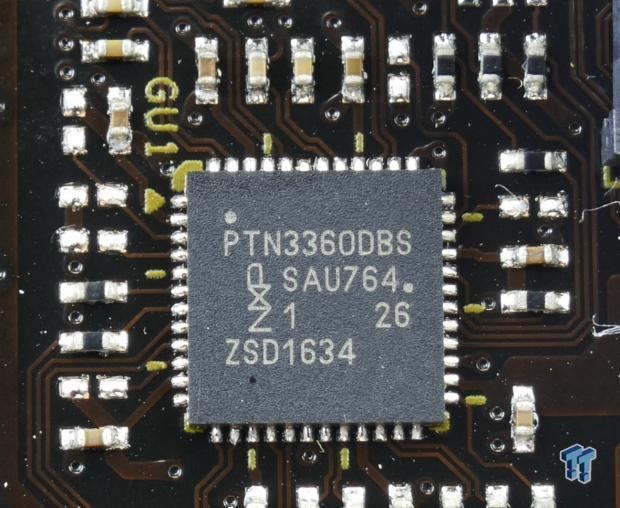 We have also found PCI-E hubs around on a few boards. These are typically an ASMedia ASM1184e, and it provides multiple PCI-E 2.0 lanes to devices that are low bandwidth such as WIFI or SATA controllers. HDMI isn't native to the iGPU, so if a motherboard has HDMI or DVI, you will also find a level-shifter, such as the NXP PTN3360 or the ASMedia ASM1442K. Although most people buy discrete GPUs, some people still rely on the internal GPU to hold them over until they can upgrade to a discrete GPU.
Network and Audio Considerations
Network Considerations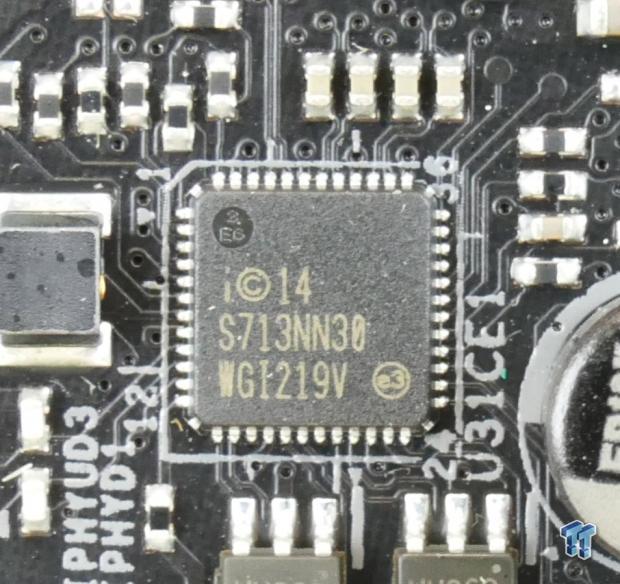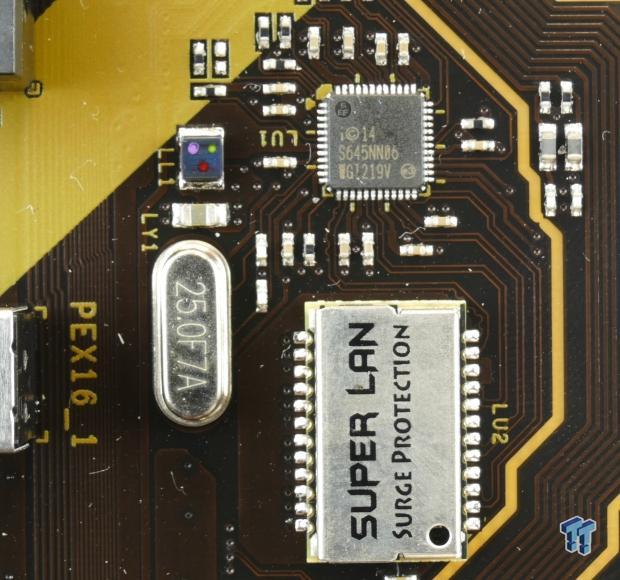 The most common NIC we have seen in mid to high-end Z370 motherboards uses Intel's i219v. It's a Gbit PHY that works with the GBit MAC integrated into the PCH to produce a 1Gbit NIC. There is also an i219LM version which has more manageability features for enterprise, but it's not commonly found on consumer motherboards. We also sometimes see the i219v or other NIC with magnetics designed to protect the NIC from external power surges.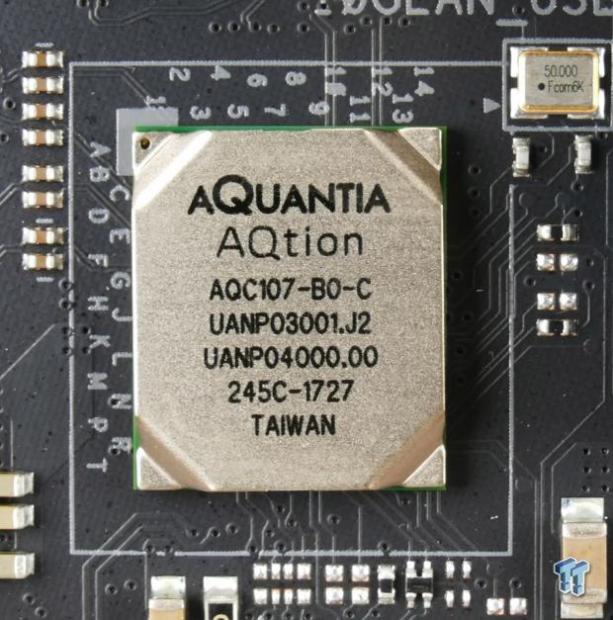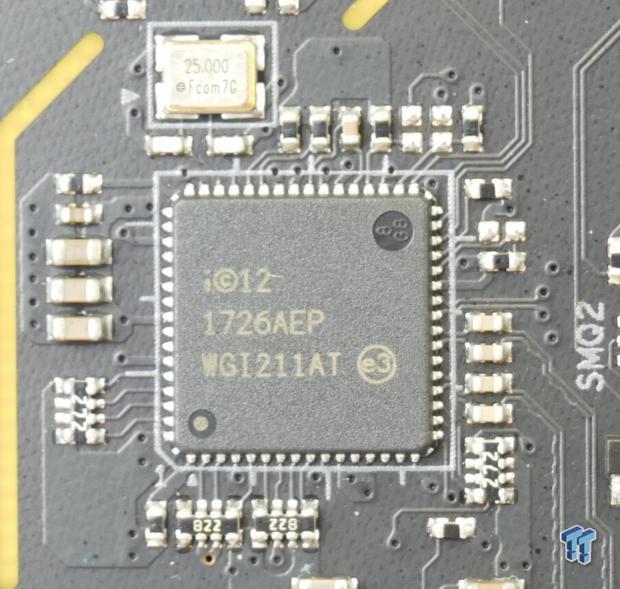 The most robust and fastest NIC we find is the Aquantia AQC107, which supports 10Gbit, 5Gbit, 2.5Gbit, 1Gbit, and 100Mbit speeds. There is also the AQC108, which supports 5Gbit, 2.5Gbit, 2.5Gbit, 1Gbit, and 100Mbit speeds, but I haven't seen it integrated yet on a Z370 motherboard. If a Z370 motherboard has two Intel Gbit NIC ports, the second one is almost always provided by an Intel i211AT standalone NIC.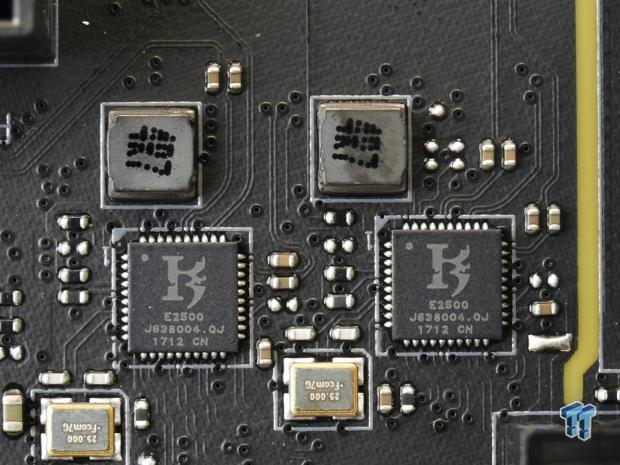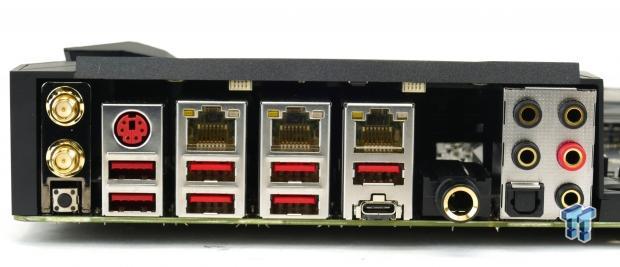 Killer's e2500 is also found on motherboards, but one motherboard does something very special. On the motherboard above, we see three 1Gbit NIC ports and WIFI, and they work together providing a technology called Killer xTend. Killer xTend allows your NICs (including WIFI) to work as a switch. It also provides WIFI extension capabilities. You can even connect to the internet through the WIFI controller, extend that WIFI signal, and also provide internet to three different devices connected to the wired NICs. You can also connect to the internet through one of the wired NICs and output internet through the other two and WIFI.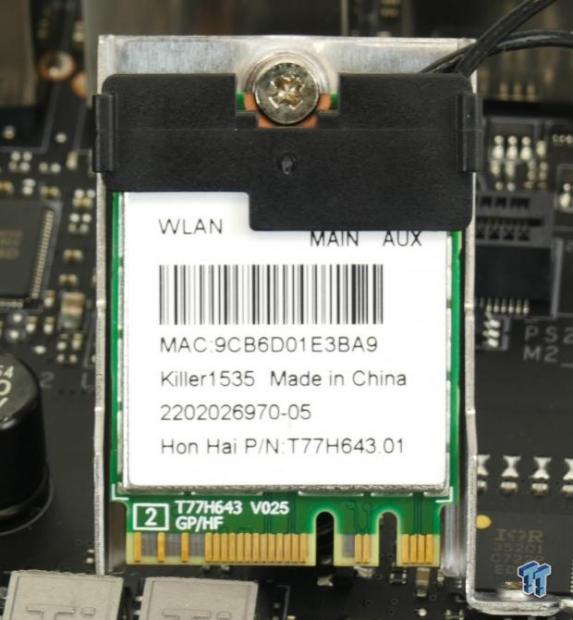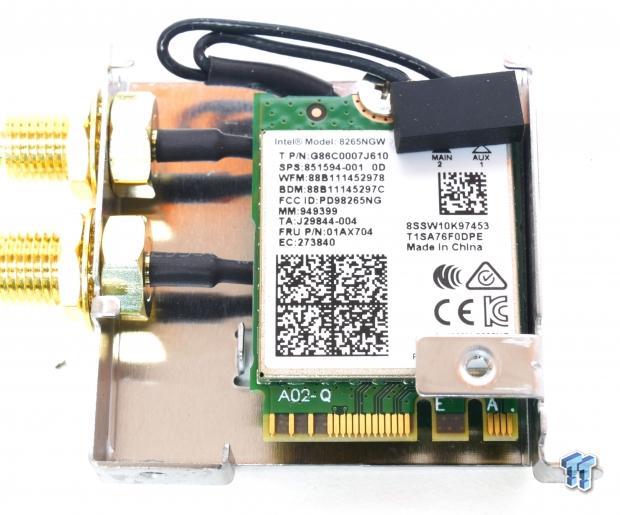 The two best WIFI controllers we find on a Z370 motherboard are the Killer 1535 and Intel 8265 controllers. Both of them offer 2x2 (2T2R) 867Mbps wireless-AC and Bluetooth.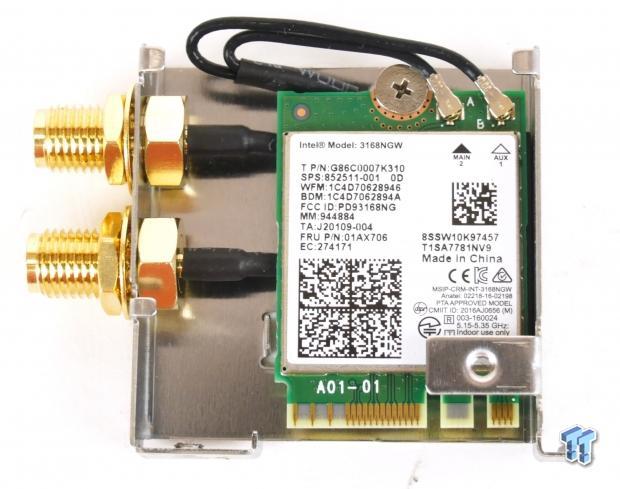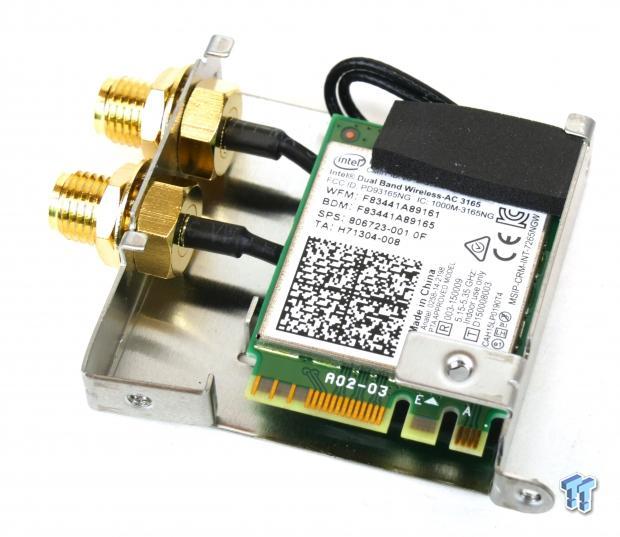 Some motherboards also have Wireless-AC, but it's 1x1 (1T1R) rated for 433Mbps, which is half the speed of the 2x2 controllers. I found two types, an Intel 3165 and Intel 3168. The Intel 3165 is Intel's 2nd generation Wireless-AC controller while the 3168 is part of the 3rd generation, I couldn't' find any difference between the generations in regards to numbers provided by Intel. The third generation should use less power and offer better speeds (that's what Intel says).
Audio Considerations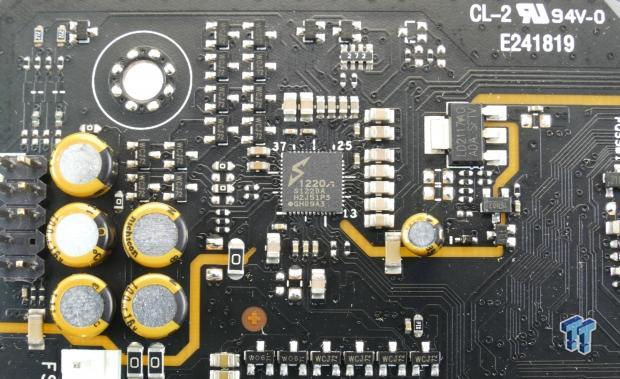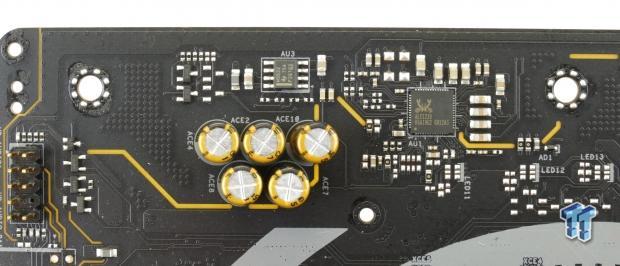 Realtek's ALC1220 is the most common audio codec I have seen, we haven't seen any ALC1150 on motherboards, but I am sure there are many of those in the lower-end of the spectrum (you might also find ALC892 or 889). The ALC1220 is a codec, meaning it communicates with the audio processor inside the PCH and provides a lot of the digital to analog converters required to turn digital signals into those that speakers can use.
The ALC1220 offers 120dB SNR on one output with a built-in headphone amplifier. The most basic implementation is the codec all alone, and most vendors isolate the PCB and add in nicer audio grade capacitors to stay competitive. Even alone, the ALC1220 is solid, but as always, vendors have gone above and beyond to add value.
The most common way to improve audio features is to add an external amplifier; most of these are Texas Instruments NE5532 or OPA1600 series amplifier. They are used to amplify either the rear or front output, depending on which one isn't already being amplified by the codec's internal amplifier so that both the rear and front outputs are amplified.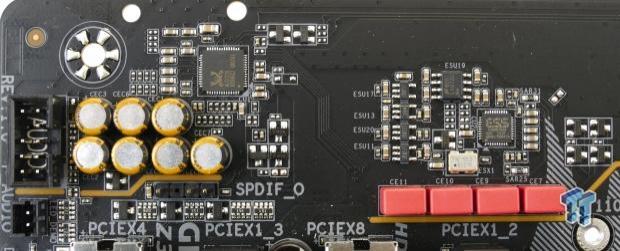 We also find that vendors will add in an ESS SABRE DAC, either of the SABRE9018 or the SABRE9018K2M which should improve audio quality. Some also use WIMA film capacitors. The most insane I have seen so far is an implementation with two audio codecs. One ALC1220 is for the rear IO, and the other is for the internal header.
That method allows for both rear and front audio to get an amplified 120dB output, and even allows them to output different audio. That vendor didn't stop there; they added an ESS SABRE9018K2M (better than non-K2M by about 6dB) and ESS SABRE9602Q headphone amplifier with output switch that offers better quality audio.
RGB and Fan Support
RGB Considerations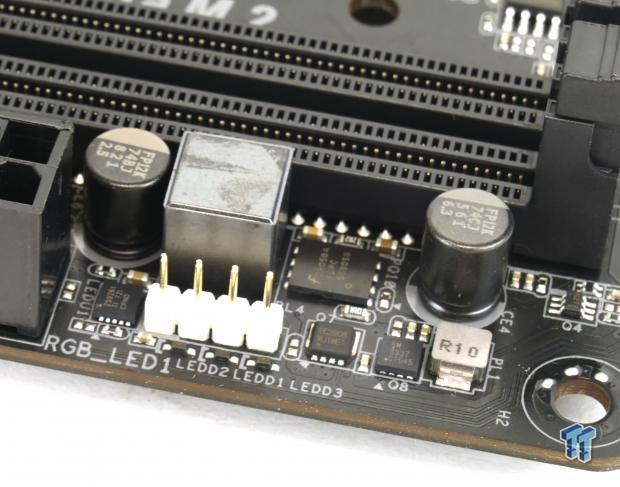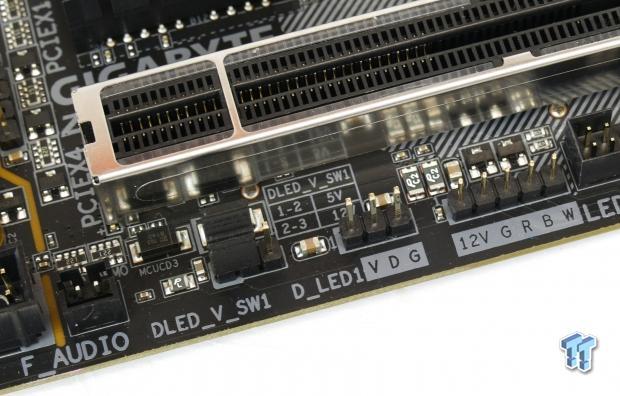 There are multiple types of RGB LED headers. The most common is the typical RGB LED header with a 12v pin and R, G, and B pins. RGB LED strips group all LEDs together, so you cannot individually control each RGB LED. Digital/Addressable RGB headers connect to digital RGB strips; they allow you to individually control each RGB LED in regards to brightness and color.
Digital/addressable RGB control is not that amazing right now, and there are many types of headers for digital/addressable RGB LEDs. There are also RGBW LED headers, that provide one extra rail for RWGB strips that provide one white LED for each RGB LED to provide true white. One vendor has gone and added a jumper to control whether the digital strip uses 12v or 5v as its power source.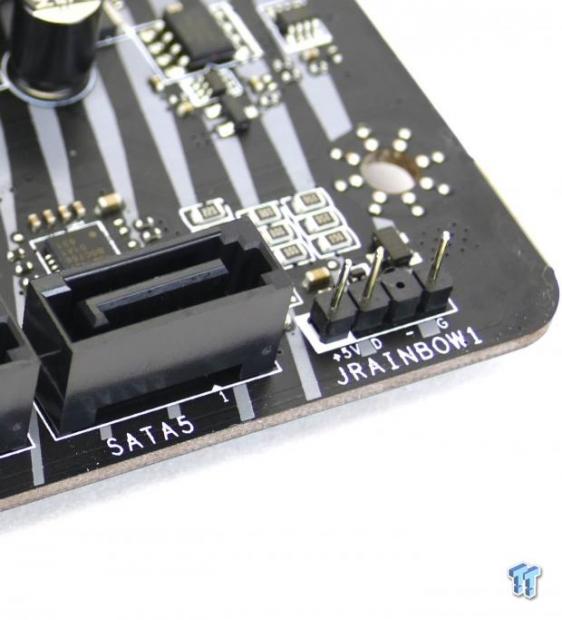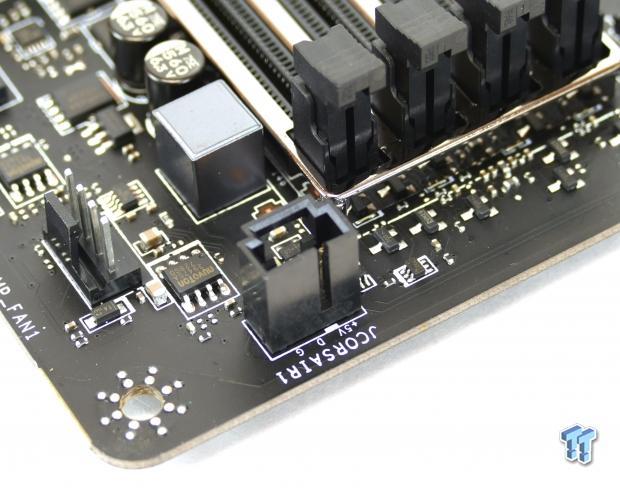 One vendor calls their addressable/digital RGB header a JRAINBOW header, it strictly uses 5v, and looks similar to another vendor's AURA addressable RGB LED system. The vendor that has a JRAINBOW header also has a JCORSAIR header, which is basically a digital RGB header with a different pin-out made for Corsair RGB accessories.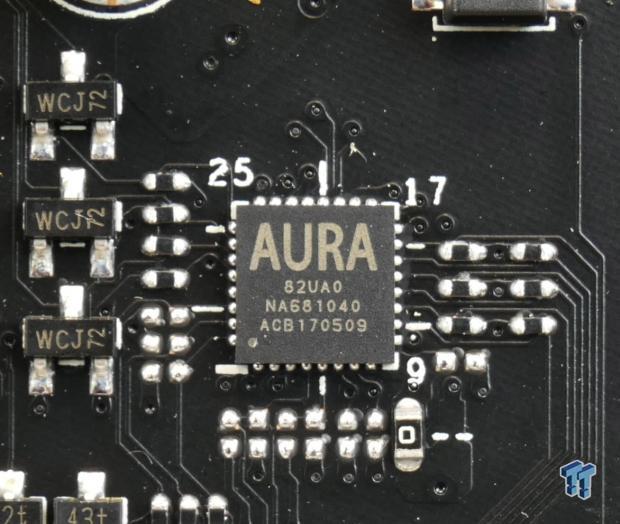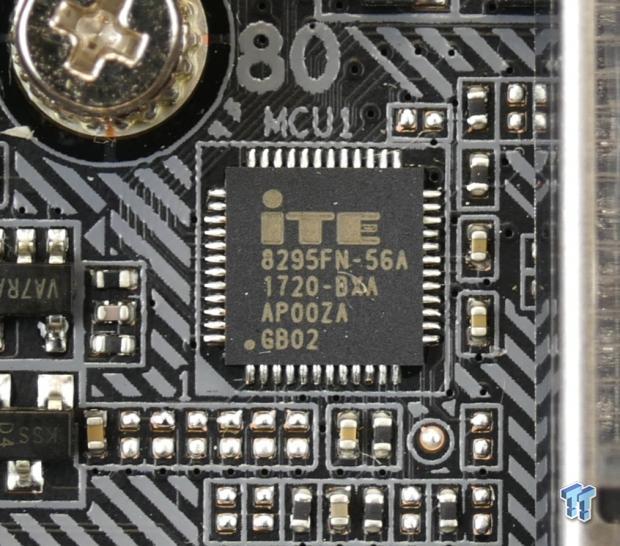 Basic RGB LED control or digital/addressable control has to be done by a microcontroller, on one brand the chip is labeled AURA. On another brand, they use an ITE8295, which is basically a microcontroller. If you find a lot of these chips on a motherboard, chances are the motherboard provides a lot of addressable/digital RGB LED control. These controllers are typically microcontrollers, and you typically can't find much information on them.
Fan Considerations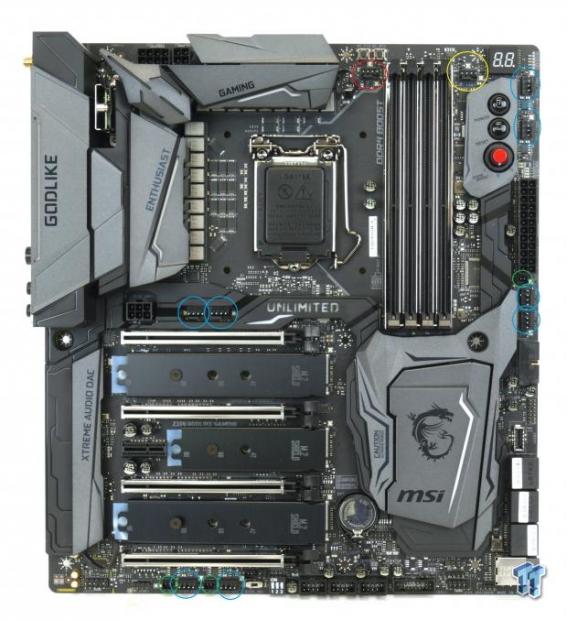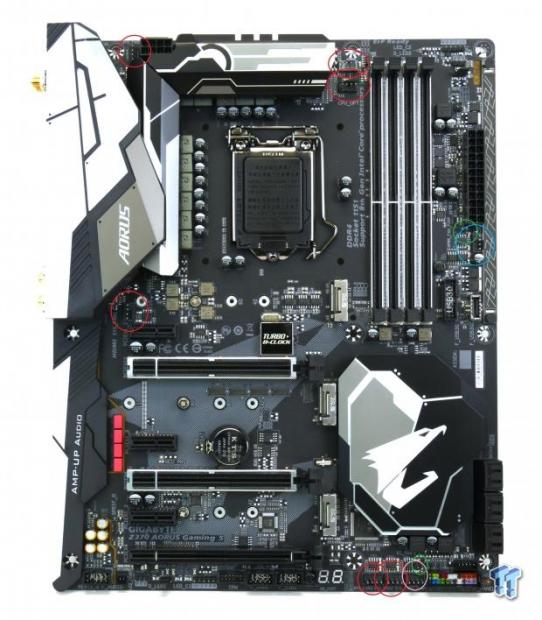 While most fan headers look the same, they can greatly differ depending on how the vendor has implemented hardware. These days, most headers on a motherboard can be configured in PWM or DC mode, sometimes they limit the CPU fan header to only work in PWM mode.
On the two motherboards above, I have circled headers in yellow (on the left) and blue (on the right) that provide more amps (2-3 depending on board). Most fan headers provide 1-1.5A depending on brand and motherboard, so supplying more allows for daisy chaining or powering high amperage pumps. On both of the motherboards above, I have circled (in green) external temperature sensor input headers. You can use those headers to control headers, so you can place a sensor in your GPU's heat sink and have a real GPU temperature to work with. Motherboard manuals, and honestly, marketing materials, will tell you about fan features.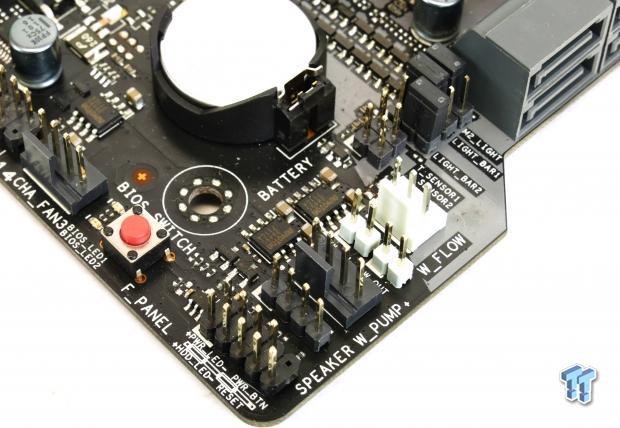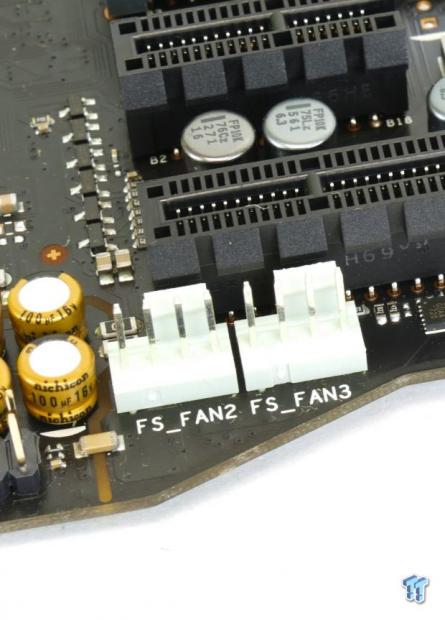 One vendor has watercooling specific temperature and water flow headers. We also find Water Pump headers that typically run full speed by default. One vendor actually has full-speed headers that operate at full speed all the time and cannot be controlled.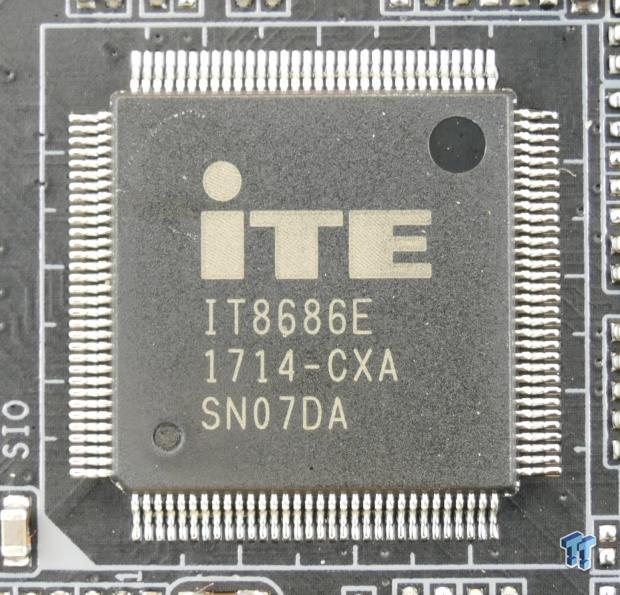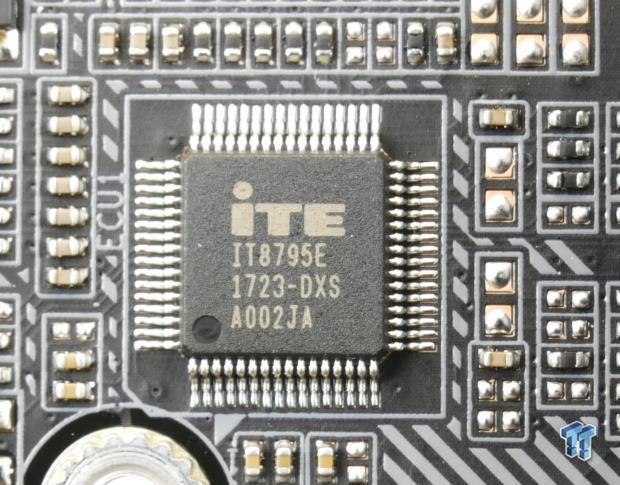 Typically, the SuperIO controller (on the left) handles most of the fan control, but these days we find a lot of secondary embedded controllers (on the right) that expand fan control and temperature monitoring.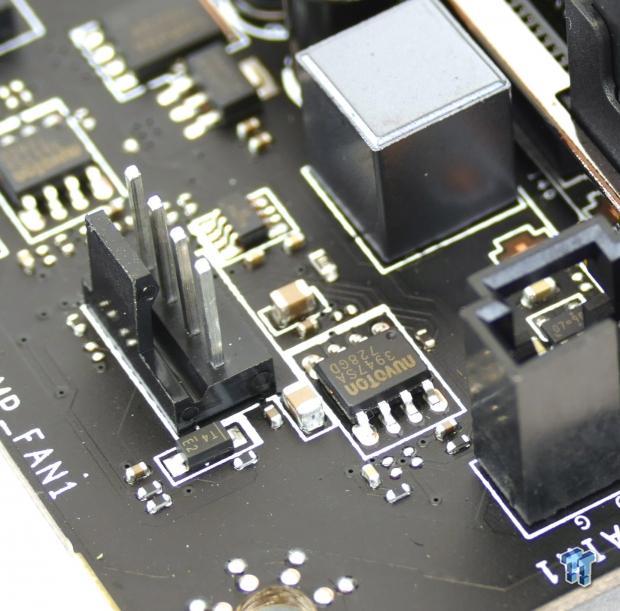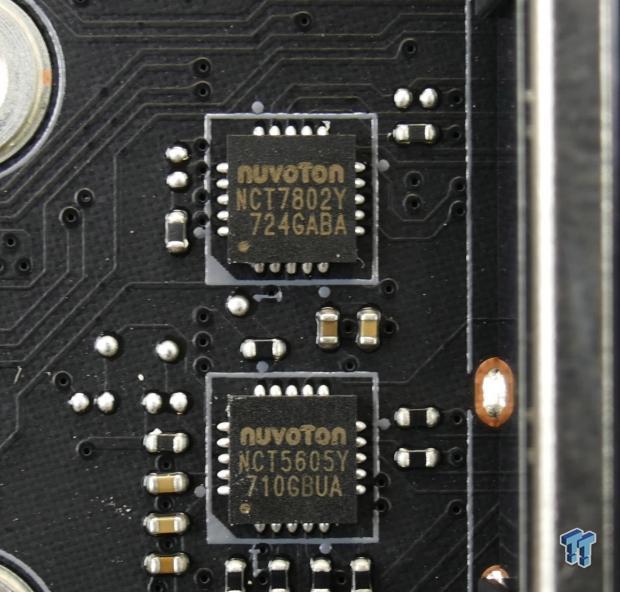 We might also find individual fan header controllers near each header that provide extra features and power. Some vendors implement many smaller controllers to monitor temperatures and provide extra control.
Overclocking Considerations
The Voltage Regulator Module
The Z370 platform requires better power delivery standards than Z270 since CPU core count has been increased by roughly 50% across the board. We find a wide range of VRMs.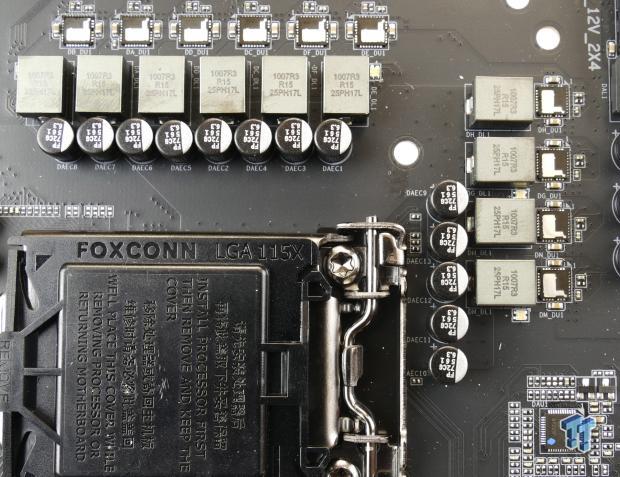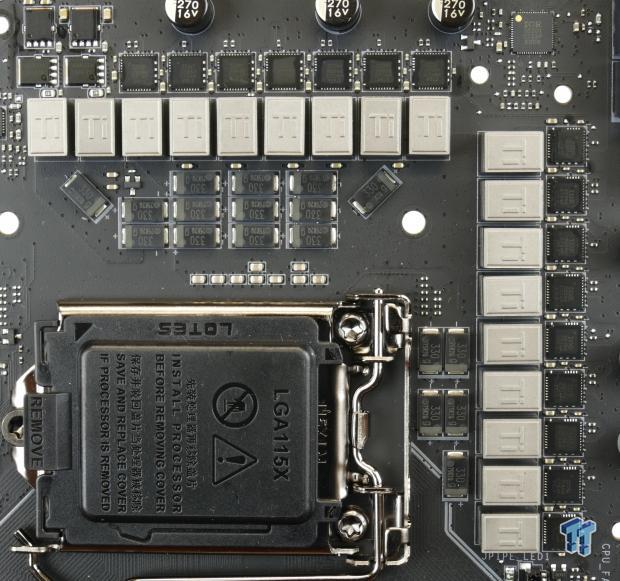 Some of the best VRMs we have seen are built upon integrated power stages, the ones seen above are from different vendors but both offer 60A at the power stage. The one on the left has integrated power stages with individual internal temperature and current sensing as well as increased cooling capability on the top of the package.
Inductors are also very important, but only some vendors use inductors with markings on the topside that allow you to find the specifications of the part. You also should check if the VRM has increased core count from proper doubling (using doubler and individual drivers) or some type of double component scheme where power stage parts are doubled. Intersil's newer digital PWMs and International Rectifier digital PWMs are what you typically find controlling the best VRMs.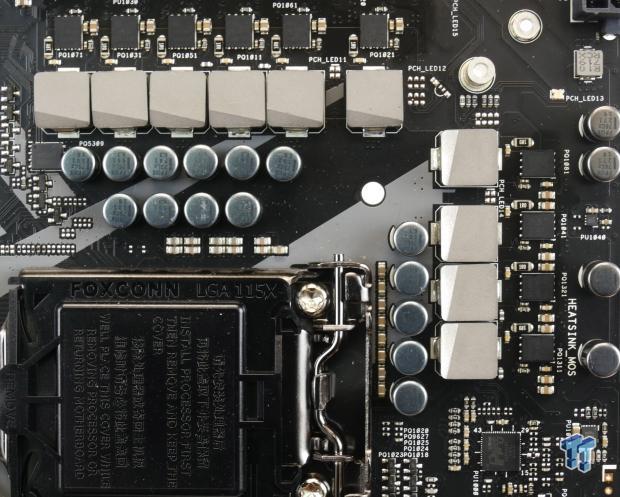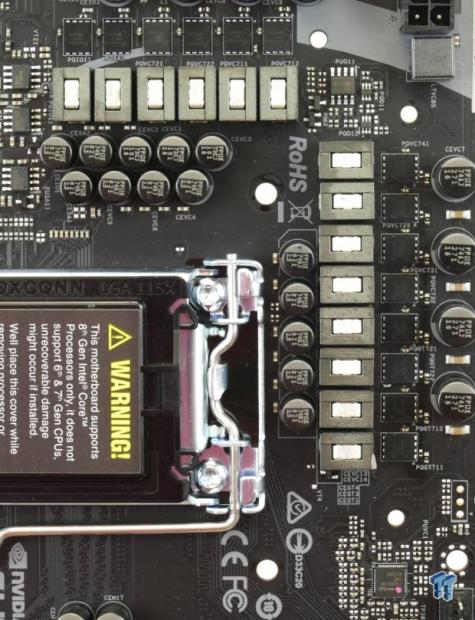 The VRMs we see here are built on dual N-channel power blocks. The one on the left uses Texas Instruments NexFETs that are optimized for efficiency, and the one on the right uses Fairchild MOSFETs of similar power specifications. These solutions offer better integration and performance compared to discrete solutions we will look at next.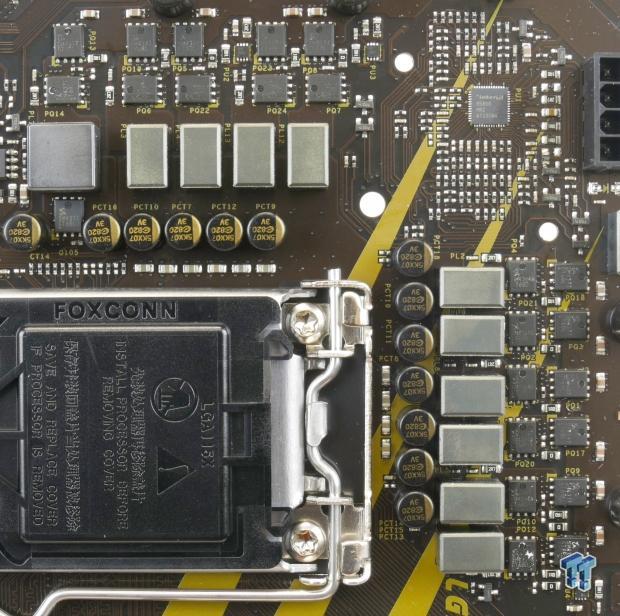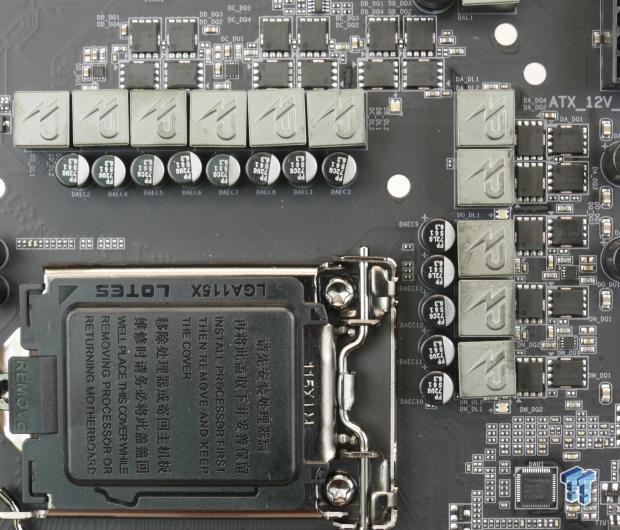 We find many models with PWMs that offer integrated drivers and doubling done by doubling VRM parts. These VRMs typically use discrete MOSFETs as well. These are acceptable, but don't offer the same thermal performance as the VRMs we looked at above. They get the job done, but you should try and improve airflow to the heat sinks on these VRMs. We can't tell you exactly what VRM is better than another, but our individual reviews thoroughly cover the VRMs and we have standardized thermal shots of each VRM in each review.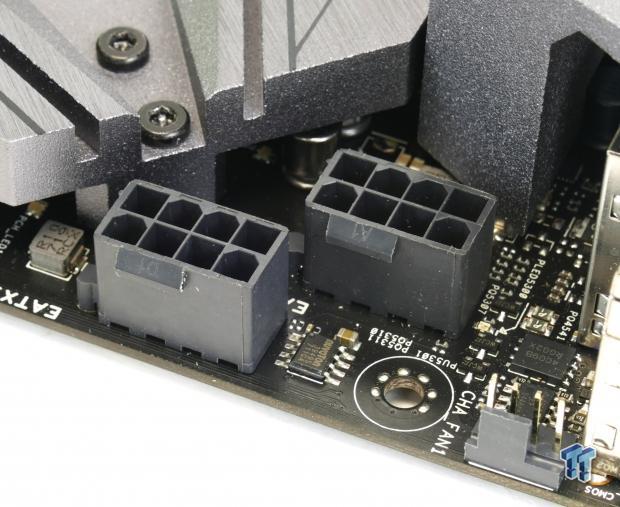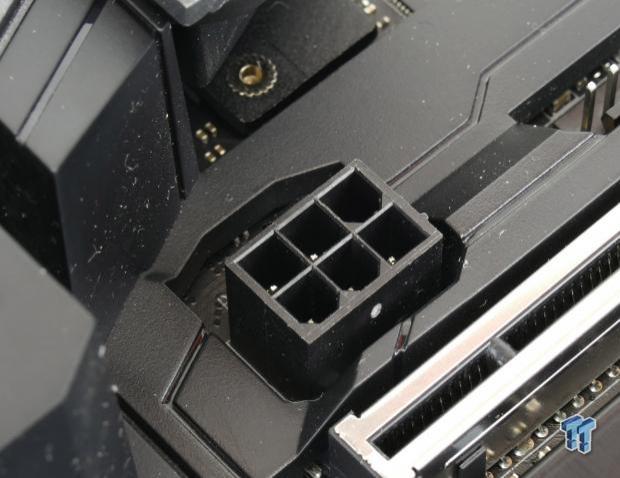 The VRM also needs to be fed power, and while a single 8-pin power plug for the CPU VRM is typically enough, we do find implementations with two 8-pin plugs or one 8-pin and one 4-pin plug. If you are overclocking many GPUs on the motherboard, it's a good idea to supplement PCI-E power, and some motherboards have a 6-pin PCI-E power plug or a MOLEX plug to provide that extra power. VRM cooling is also very important, but if you don't have a fan pointed at the VRM, just make sure you maintain positive air pressure.
Overclocking Features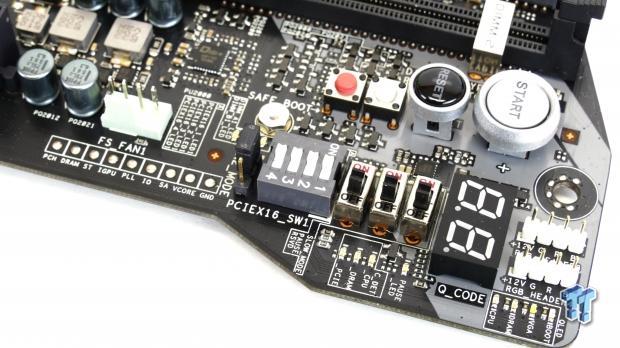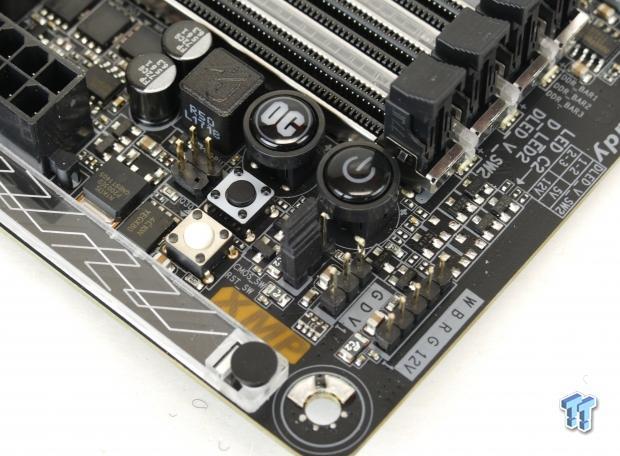 Some motherboards are specifically designed for overclocking and provide many overclocking features in the forums of buttons and switches. These are very useful for liquid nitrogen. Some switches can downclock the CPU on-the-fly, disable features, and even pause the system. You also find buttons that can do things like re-apply settings, offering safe booting, and of course, reset and power the system. Some motherboards have voltage read points as well. Automatic overclocking profiles can also be applied on some motherboards with the press of a button.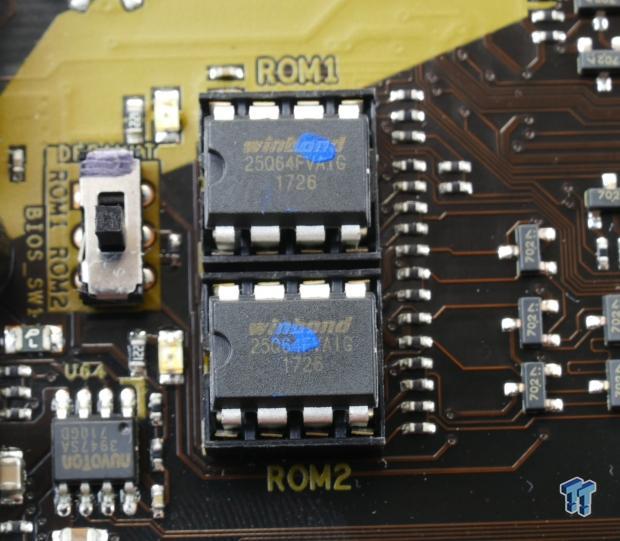 The POST code display is one of my favorite tools for diagnosing anything wrong with the system, and I found one board that only offered one OC feature, the POST code display. While not every motherboard has a POST code display, most of them have boot LEDs that will hang up on the CPU, DRAM, VGA, or Boot device depending on where the problem is. Dual BIOS ROMs have also become popular and offer redundancy for the most important software in your system.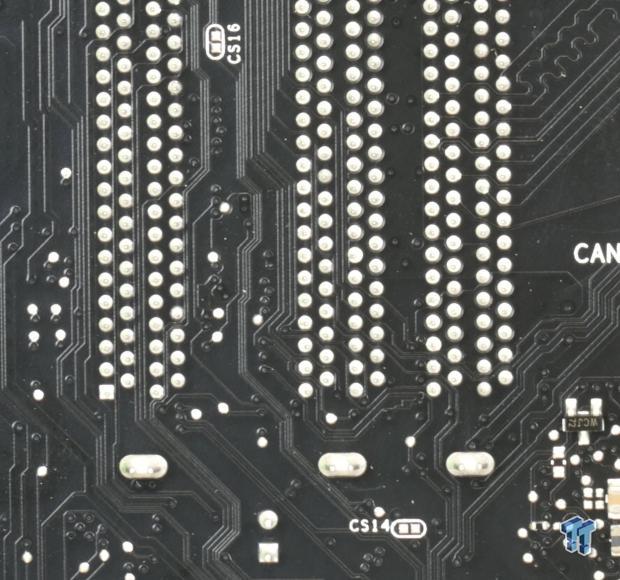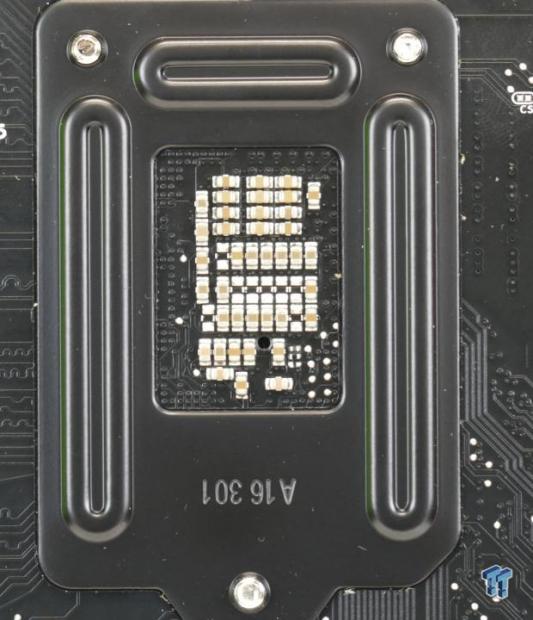 One vendor has unique features, such as the condensation detection sensor array we find on the back of the PCB to help with liquid nitrogen overclocking. That same motherboard also has a hole under the CPU socket where you can stick a temperature probe to detect proper CPU temperature.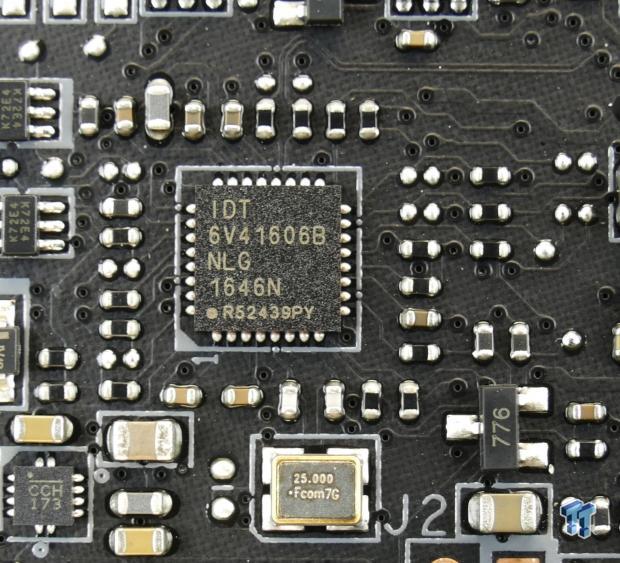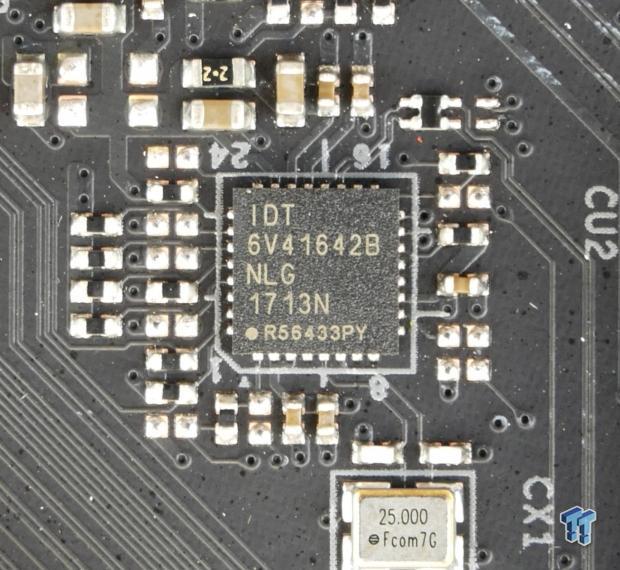 Some motherboards also carry an external clock generator that is used to improve BCLK overclocking margins. Not many people overclock with BCLK, so it's not a big deal, but if you are going for insane RAM overclocking, many times a lower multiplier with higher BCLK can help. I found an IDT6V41606B on one board and an IDT6V41642B on another.
LLC and Memory Support
LLC is very important, and most vendors have their act together these days, either because they update their UEFI code to fix any issue or because they had it right to begin with. I would look at BIOS changelogs is forum user reports indicate no LLC, but most vendors have it fixed now. For memory support, each vendor puts out a Qualified Vendor List (QVL) for RAM and other components like SSDs either on their website or in their manual.
PCI-E Considerations
All 8th Generation Core processors offer x16 CPU lanes, and can fan that out to x8/x8 or x8/x4/x4. However, not all vendors allow the CPU's lanes to go to x8/x4/x4, and instead provide the last x16 full sized slot as x4 from the PCH, so they can do x8/x8/x4, but if you run three GPUs in it like that you are limited because the last GPU's bandwidth has to go through the PCH and DMI.
If you have one GPU and want to use another PCI-E slot and all are routed to the CPU, then your GPU will be downgraded to x8 mode, even if your other device only uses x4. However, if latency is an issue, then it makes sense to route lanes to the CPU, especially if you want to run 3-way CrossFireX.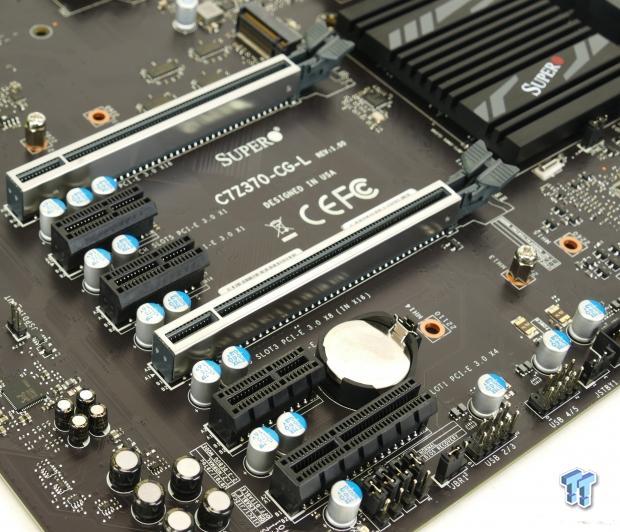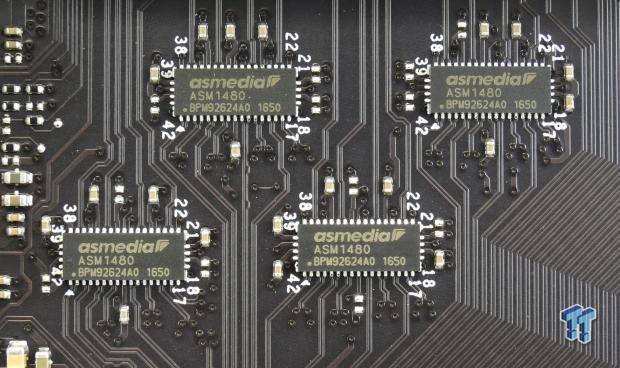 The implementation above has the first and second x16 slots routed to the CPU and the last x4 slot routed to the PCH. The CPU's lanes are distributed x16/x0 or x8/x8. It's the simplest implementation, and we can see how the PCI-E switches are routing lanes, so that each of the ASM1480 PCI-E 3.0 2-lane quick switches can move lanes between the first and second slots. If a motherboard only has four PCI-E quick switches, then it only can move x8 PCI-E between two slots.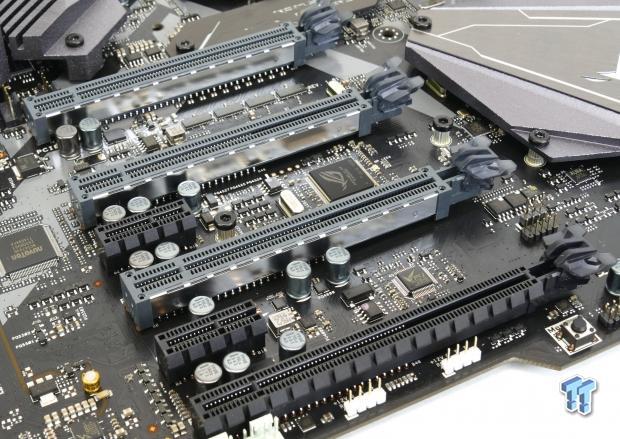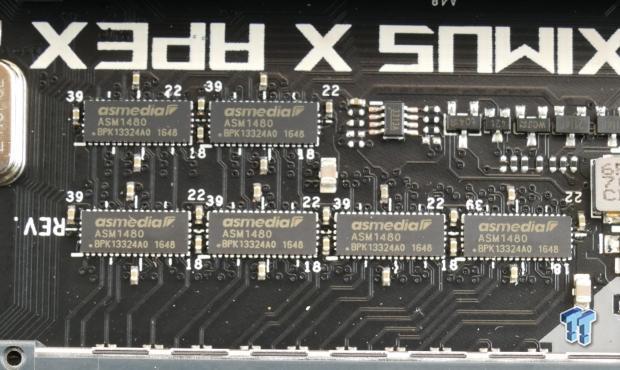 Here we have an implementation that provides the CPU the ability to have its lanes put out as x16/x0/x0, x8/x0/x8, or x8/x4/x8. The last slot is routed to the PCH's PCI-E lanes. If a motherboard has six PCI-E quick switches, then it can switch x16 PCI-E lanes to three slots for a maximum fan out of x8/x4/x4. We can even see how two of the PCI-E quick switches route directly to another set of two switches to move that other x4 around. However, not all quick switches are used for PCI-E slot routing; many are used for SATA/M.2 switching.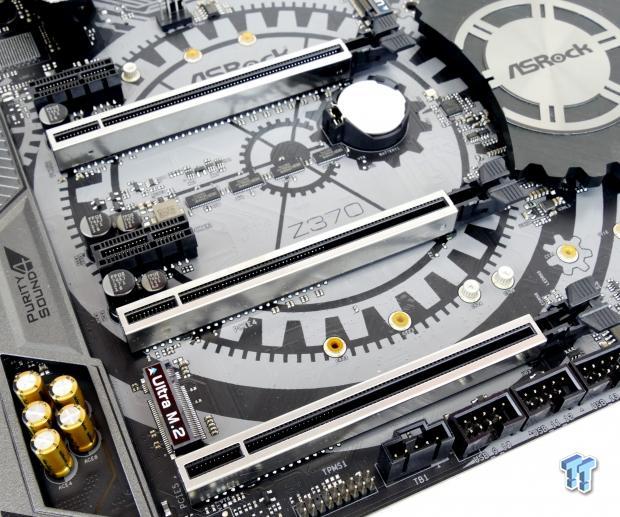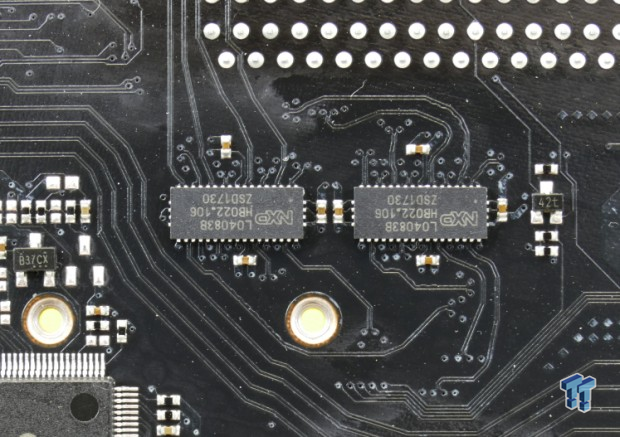 Here we see another x16/x0/x0, x8/x0/x8, or x8/x4/x8 implementation, but you are probably wondering why there are only four PCI-E quick switches. The answer is because the other two switches are hidden on the back of the motherboard to make things look cleaner.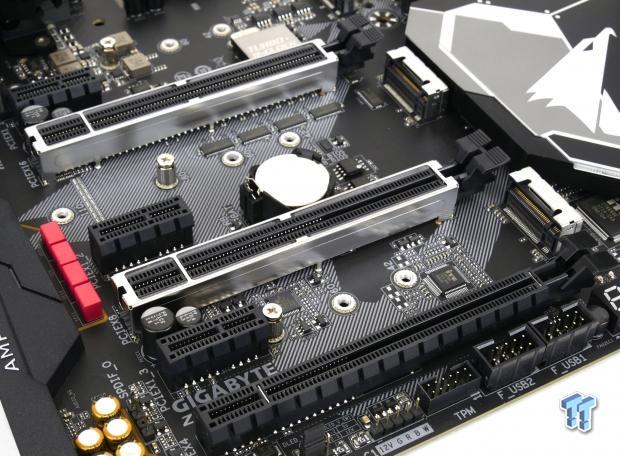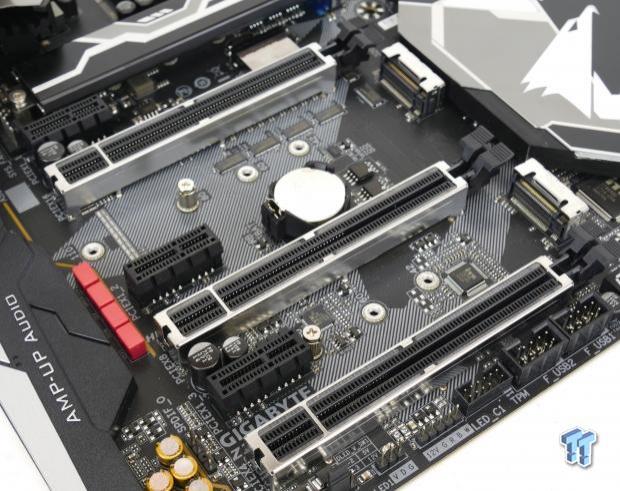 The best way to know how lanes are distributed is to look at the manual or specifications, but some people take shortcuts. One shortcut is to count PCI-E quick switches, but quick switches are also used outside of the PCI-E lane area to switch M.2 and SATA bandwidth between slots, ports, and connectors, so it's not a foolproof method unless you know what you are looking at.
However, as a PSA, I wanted to show the two motherboards above. Many people can recognize that many vendors have put metal shields around slots connected to the CPU and not around those connected to the PCH. However, that is not always true, as both of the motherboards shown above have the same PCI-E allocation where only the first two slots are routed to the CPU while the last x16 slot is routed directly to the PCH.
Many times, if that last x16 slot is routed to the PCH, it also shares all of its bandwidth with one of the M.2 slots, and that is true on the boards above. You need to look at your manual to figure out how that routing is done. The best advice we can give is to read the manual, as vendors still put a lot of time and effort into them. In conclusion, we hope this guide helped you better understand motherboards and our reviews. If you have any questions, please let us know in the comment section, or you can email the author.
PRICING: You can find products similar to this one for sale below.

United States: Find other tech and computer products like this over at Amazon.com

United Kingdom: Find other tech and computer products like this over at Amazon.co.uk

Australia: Find other tech and computer products like this over at Amazon.com.au

Canada: Find other tech and computer products like this over at Amazon.ca

Deutschland: Finde andere Technik- und Computerprodukte wie dieses auf Amazon.de